SKIZOPHRENIA! - single-ticket to demo-lition CD (HCS-053)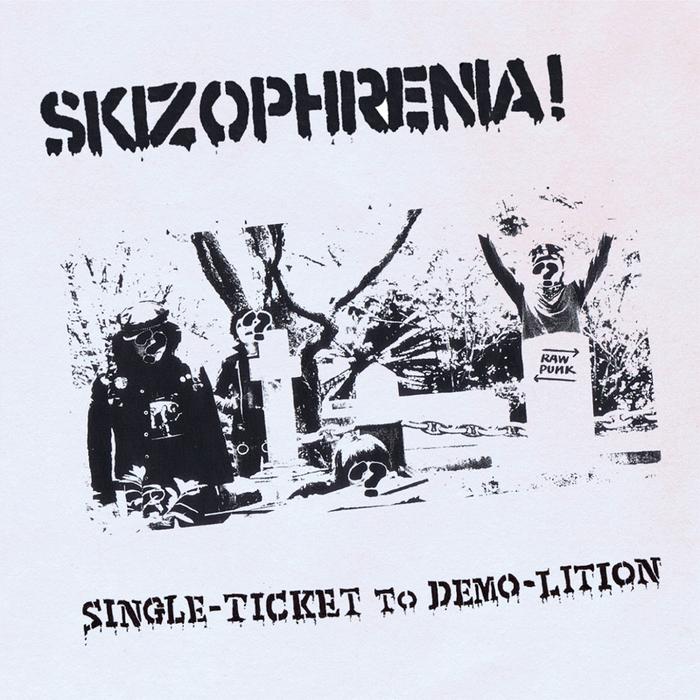 SKIZOPHRENIA!- single-ticket to demo-lition CD
(HCS-053)
out on 6/30!

1500円/1500yen
岡山県は津山の至宝SKIZOPHRENIA!のデモ音源/シングルEPを集めた全20曲のディスコグラフィーCDが
初音源から10年を節目に遂にリリースされる!
1st demo "3 trax demo"/2nd demo "Freedom land"/1st EP "Raw punk E.A.T.E.R"/2nd EP "st"/3rd EP "Don't give up"/Split EP with Vaaskaと貴重なデモ音源からライブでお馴染みの名曲まで全曲リマスターリングを施した、過去から未来へと紡ぐRAW PUNK MASTERPIECE!
一地方都市をPUNKの桃源郷へと押し上げ、日本各地、そして全世界を巻き込む一大ムーブメントの旗手としてその存在はあまりにも大きい。サウンドのみならず、その姿勢は幾多のバンド、海外からのツアーバンドに与えた影響は計り知れない。そう、いつだって未来は僕らの手の中に!
Here comes Skizophrenia! 20songs discography CD from Tsuyama-city/Okayama-pre.
It is out 10years since their first demo cassette.
Including 1st demo "3 trax demo"/2nd demo "Freedom land"/1st EP "Raw punk E.A.T.E.R"/2nd EP "st"/3rd EP "Don't give up"/Split EP with Vaaska, rare demo tracks to well known sing-a-long songs. all songs are remastered. It's from the past to the future as "RAW PUNK MASTERPIECE"!
They've pushed regular local city up to punk paradise, also great influence to so many bands and tour bands from their ideas. One of the biggest punk movement they've done. so The future is always our hands!