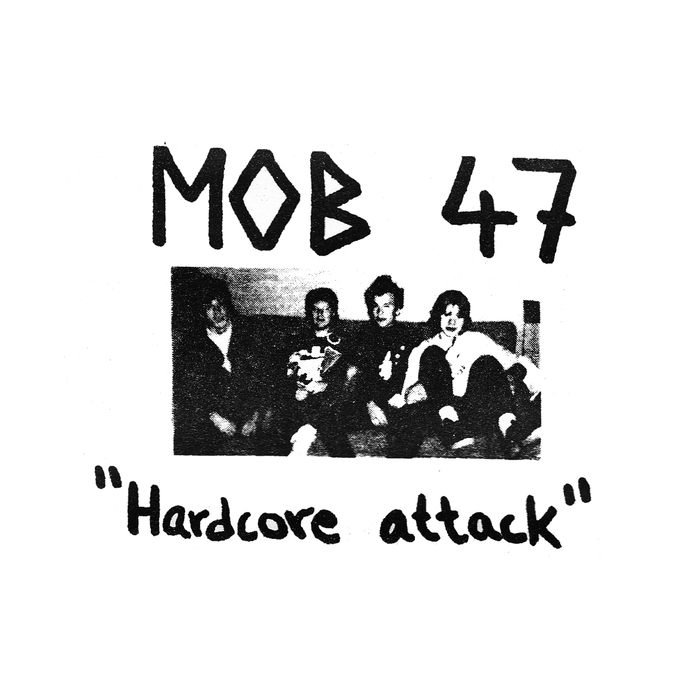 MOB47 - hardcore attack ep

(HCS-021)
今年10月に待望の来日を果たすMOB47の最初期音源、1983年に生み落とされた"HARDCORE ATTACK" カセットがオリジナルアートワークで7"ep化オフィシャルリリース。UK HCとUS HCの奇跡的な融合で、今尚世界中に影響を撒き続けるストックホルム・マンゲル産声の瞬間!
"hardcore attack" cassette was releasesd as their first demo in 1983.this time it's released with original artwork an official on 7"ep. amazing mixed UK HC with US HC! the birth of Stockholm mangel! you know who they are!
800円/800yen
7月中旬発売予定/release on mid July




mail:kaotik-hero[a]hotmail.co.jp
and...
DJ every weeks! 毎週だぁ!





7/2(sat) OLEDICKFOGGY presents "LAUGHTER ACTION COTYLEDON" @ EARTH DOM
OLEDICKFOGGY,D-CLONE,SKIZOPHRENIA,HATTRICKERS,GRIND SHAFT,REDNECKS,quAng duc Asylum

-DJ-
DJ HEAVY METAL



7/16(sat) 人間堂 presents "厭ワズ大縁会" @ ANTIKNOCK
真摯,COMIX,-REJECT-,FOLKEIIS,THE クルマ,ROUGH STUFF,HAT TRICKERS,SKIZOPHRENIA,THE TELEPATHYS,NU-COORDINATOR,THE LAST MOMENT

-DJ-
Pee(ZETU , MAD SCHOOL)
NAnKA



7/23(sat) STAGNATION presents 'VIOLENT NIGHT vol.summer hell" @ ANTIKNOCK
SLANG,DEATH DUST EXTRACTOR,PEOPLE,DISTURD,AVFALL,VENDETTA,EYESORE,CRUCIAL SECTION,
FUCK ON THE BEACH,HAAVA,THE BUBBLES,STAGNATION



7/30(sat) LOW VISION&UNARM presents "DEAD END KONFUSION vol.4" @ EARTH DOM
UNARM,LOW VISION,不幸,LITTLE BASTARDS,FORWARD,ENSLAVE,CxPxS

-DJ-
YO-KING/SUPER DRY/DOC-P/SATOSHI/SHUHEY/NEUROMANTIC/HEAVEY METAL



7/31(sun) "PUNK ADDICT vol.57" @ ANTIKNOCK
EXTINCT GOVERNMENT,HAZARD,BOLLOCKS,THINK AGAIN,ORdER,DIGRAPHIA



8/7(sun) ZONE-B 3rd anniversary gig "UNDEAD GIG vol10" @ ZONE-B
THE ERECTIONS,EYESORE,MAD MANIAX,MARUBULLMEN,CROPPEDMEN,VENDETTA,ASMODEUS,AVFALL,ROUGH STUFF



8/14(sun) ASOCIAL TERROR FABRICATION presents "SIEGE OF POWER vol.1" @ ZONE-B
ASOCIAL TERROR FABRICATION,MARUBLLMEN,SCREWITHIN,ZENOCIDE,ASMODEUS



8/20(sat) AVFALL&HAAVA presents "TOTAL DESTRUCKTION" @ EARTH DOM
to be announced...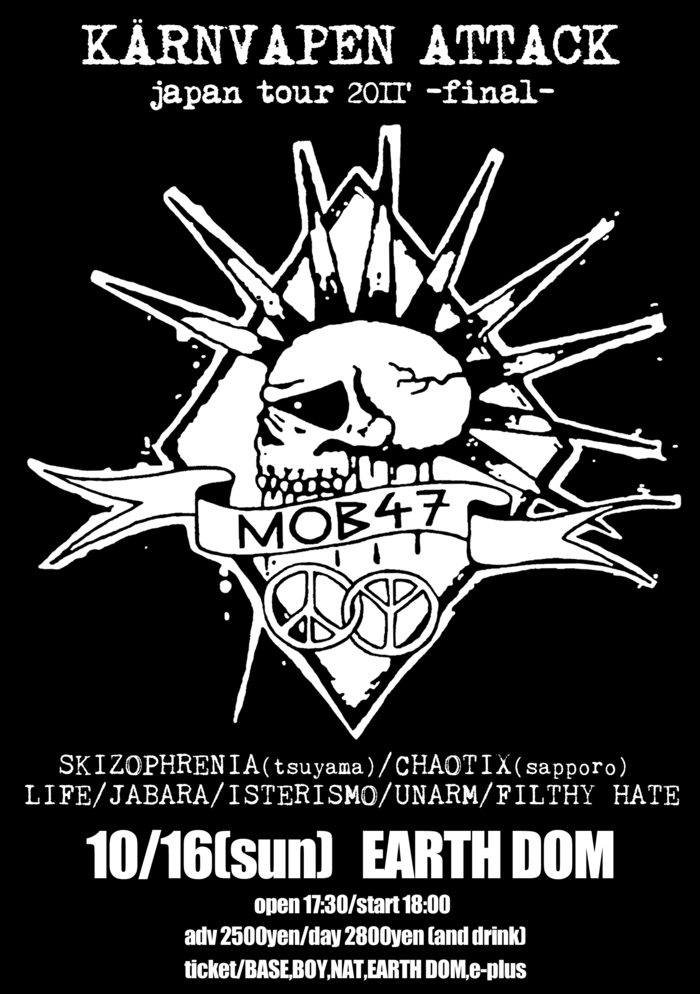 10/16(sun)@EARTH DOM




MOB47(sweden)
SKIZOPHRENIA(tsuyama)
CHAOTIX(sapporo)
LIFE
JABARA
ISTERISMO
UNARM
FILTHY HATE


open 17:30
start 18:00

adv 2500yen
day 2800yen


ticket:BASE,BOY,NAT,EARTH DOM,e-plus

※前売りチケットは8月13日より発売開始致します。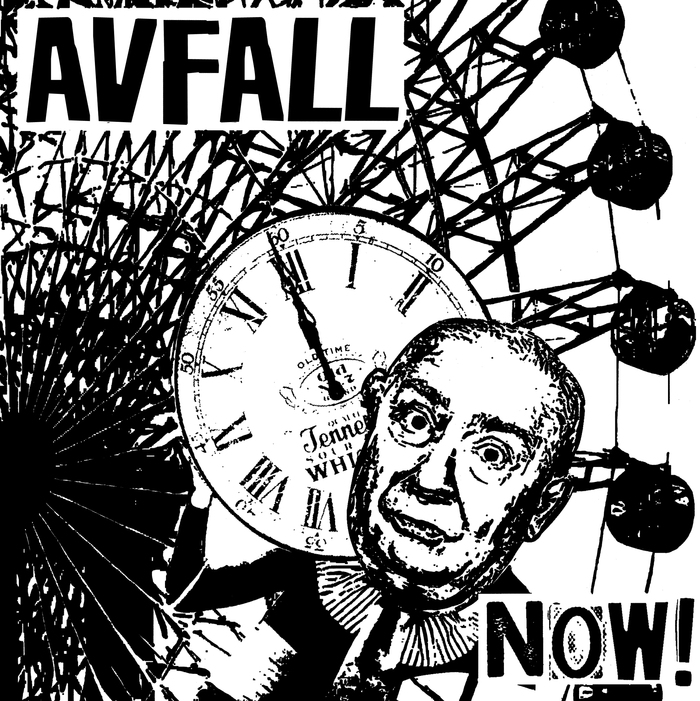 AVFALL - now! ep

(HCS-019)
今年5月にフランスのGASMSK TERRORのツアーサポートも敢行し、向かうところ敵無しで酩酊する若き先鋭FROM TOKYO!
局地的にはもはや東京名物の120%HARDCORE PUNK LOVERS、気が触れたドランクアルコホリックずっこけ集団はHAAVAとのスプリットテープ、TERRO-RHYTHM compから更なる"深化"を遂げ、TOTALITAR~FYFAN~SKITKIDS系譜のSWEDISH HC meets US THRASHをオリジナルのフィルターで消化し、爆走ドライヴィングで炸裂させる!大半のメンバーが東京出身にも関わらず一向に垢抜けないルックスとサウンドは泥臭くも眩いPURE DESTRUCKTIONの塊に他ならない!ポーザーを薙ぎ倒すエナジーに満ち溢れた愛と魂の衝動を体感せよ!SWEDISH HCファンは勿論の事、US HC~NO WAY RECORDS周辺まで多くの人間を魅了するであろう。今この瞬間にも"深化"するHARDCORE PUNKの珠玉の1ST EPここに極まれり!
No one can't stop them,running hard drunken guys from tokyo! they played with Gasmask Terror(france) as tour supported in this May.famous alcoholic silly 4 pieces playing more deepening sounds than split cassette w/Haava and VA/Terro-Rhytm cd on this 1st 7"ep. the sound goes toward TOTALITAR-FYFAN-SKITKIDS line Swedish HC meets US thrash through their ogirinal filter. it's amazing noisily driving hardcore punk as hell! they never get any fashionable styles and unrefined even most of members from tokyo urban city. it's kind of primitive pure destrucktion we start forgetting! feel their energetic soul and love for hardcore punk. all the fans of Swedish HC to US HC and No way records releases, exploding hardcore punk "real now"!
800円/800yen



mail:kaotik-hero[a]hotmail.co.jp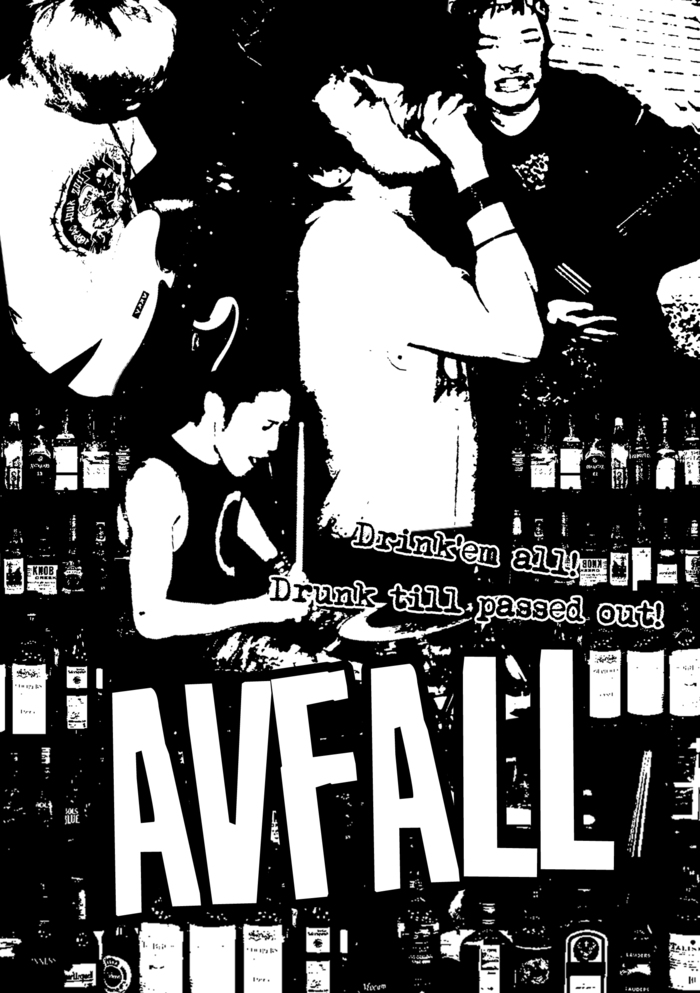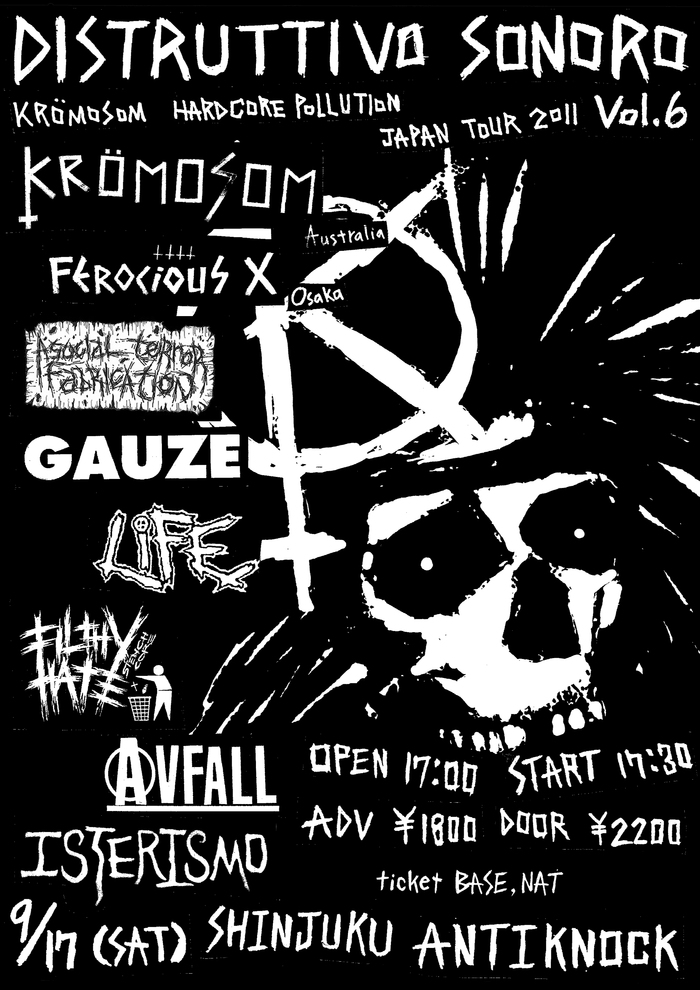 DISTRUTTIVO SONORO vol.6





9/17(sat)@ANTIKNOCK




KROMOSOM(australia)
FEROCIOUS X(osaka)
ISTERISMO
GAUZE
ASOCIAL TERROR FABRICATION
LIFE
FILTHY HATE
AVFALL


open 17:00
start 17:30

adv 1800yen
day 2200yen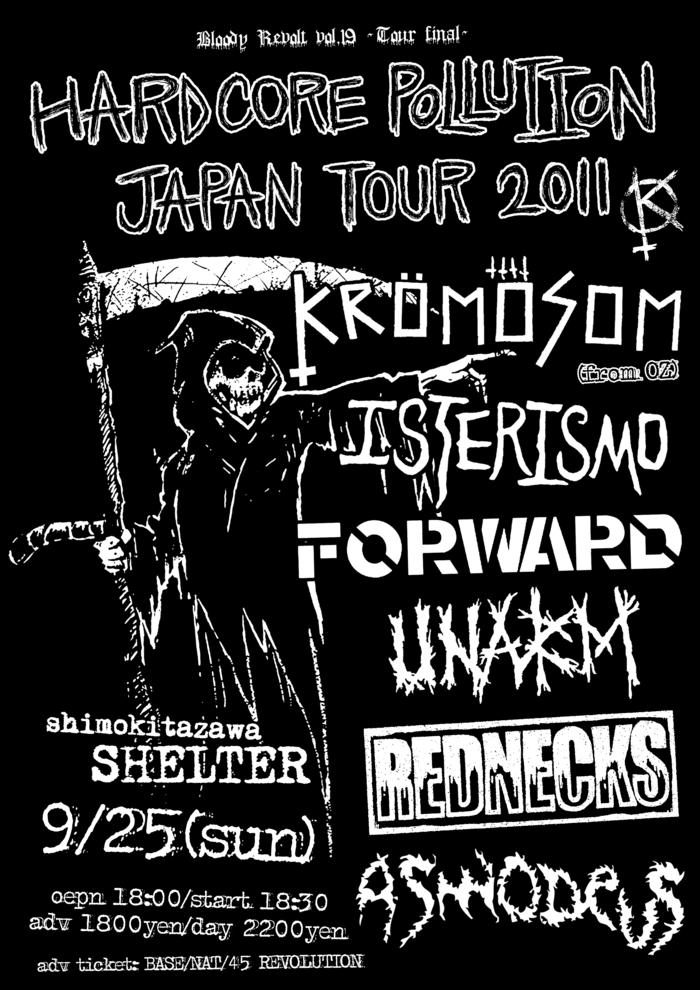 BLOODY REVOLT vol.19





9/25(sun)@simokitazawa SHLETER




KROMOSOM(australia)
ISTERISMO
FORWARD
UNARM
REDNECKS
ASMODEUS


open 18:00
start 18:30

adv 1800yen
day 2200yen