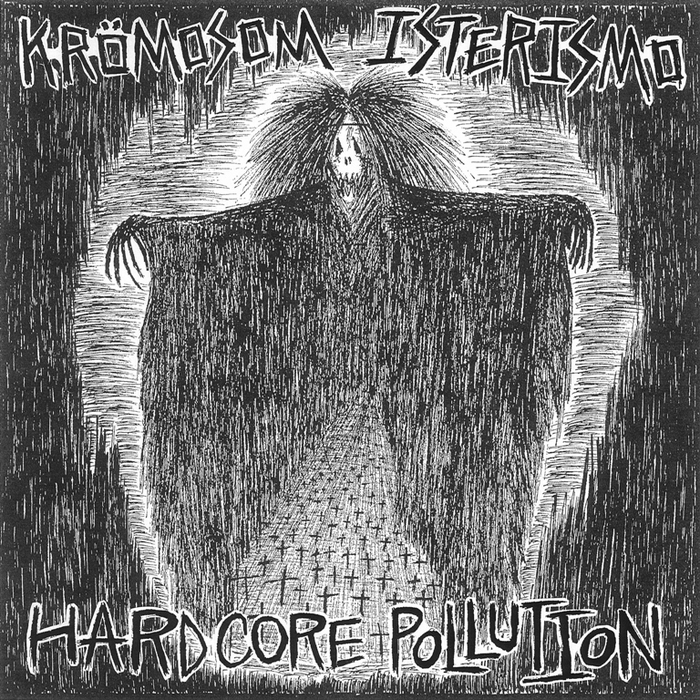 KROMOSOM/ISTERISMO




- hardcore pollution split 7"ep

(HCS-023)
最早説明不要、東京ならず今や日本を代表するバンドにまで成長し世界中にメガトンNOISE CORE CRUSHER CRUSTを叩き付けるISTERISMOと、2010年に彼等とオーストラリアツアーを共に敢行した盟友ヤップ(ex-PISSCHRIST)率いるOZ BRUTAL RAW HARDCORE PUNK KROMOSOMのジャパンツアーに合わせて解き放たれるスプリット7"ep!
KROMOSOMは局地的に此処日本に於いても耳の肥えたRAW PUNKSを唸らせたデモ音源のANTI CIMEX型SWEDISH HCから大幅なメンバーチェンジを経て、PISSCHRIST時と同様にヤップがマイクを握り、同郷の友ペンキー(BLOODY HAMMER)がベースへ、そしてジャパンツアーの記憶も新しいNUCLEAR DEATH TERROR(from Denmark)のコーミーがオーストラリアへの移住と共にギターへとコンバート。と、ISTERISMOのメンバーさえも困惑させた大改革を行い、LPに続いて満を持しての最新音源3曲入魂!よりブルータルに変貌したサウンドはTOTAL SCANDINAVIAN RAW HC ATTACKであり、時にメロディアスでキャッチーな音色は彼等の長きに渡るバンド経験から裏打ちされたハードコア・メロディーメーカーと言って過言は無いであろう。そして今回の音源では、既に関東近郊ではお馴染みとなったTOKYO BOWLING STUDIOこと桃源郷"NOISE ROOM"にてマスターリングされ破壊力と暴力性1000%増しで襲い掛かる。
世界中のパンクスがその一挙手一投足に注目するISTERISMOは数多くのコンピレーション作品を経て、1st ep以来となる7"epレコード音源であり、まさかのREDNECKSのシンガー・エビネックがドラムに電撃加入してからの初作品。そのノイズに魅せられた飽くなき探究心でノイズの一粒一粒にまで心血を注ぎ込み、血肉を断った常軌を逸脱しかねない伊太利亜式公害崩壊雑音音塊!今作品にはメンバー曰くAMEBIX的要素も加えたとの談もあるが、アートワークに至るまで大英帝国のエッセンスも加えて更なるグッスグスのSTENCH CORE CRUSHER CRUSTを見事に体現。耳栓必至の鳴り止まないHARDCORE POLLUTIONは腐れたシステムを切り裂き闇夜に葬る!現在進行形で巻き起こり続けるHARDCORE PUNK NOW!を是非ともツアー&レコードと共に全身全霊で体感すべし!
----------------------------------------------------------------------------------------------------
NOTICE:
We don't have any stock of it, please buy and find it from following distros.
some of them already sold it out, thank you.
Overseas distributors
Split 7"ep Kromosom(australia)/Isterismo(tokyo) for their japan tour 2011'.
growing up to represent Japanese hardcore punk band Isterismo put mega noise core crusher crust!with their great mate brutal raw hardcore punk Kromosom. they already played OZ tour in 2010' chaos.
Kromosom thier 1st demo impressed to so many japanese raw punks who knows what is raw. they've big member changed than before. Yeap(ex-Pisschrist) converted to singer. thier brotherhood Penke(Bloody Hammer) jointed as Bass player and Cormy(Nuclear Death Terror) playing Guitar. more brutal sounds like Total scandi raw hc attack! they're kind of hc punk melody maker sometimes catchy and melodious tone which is backed their long way hc punk life. these 3songs were mastered by famous "tokyo's bowling studio" (you know what this mean) -NOISE ROOM-. making more violent and intense sounds attack you!
Invasion the world Tokyo crusher crusties Isterismo has put out for many compilations. this material their second 7" vinyl since 1st ep 2008'. also first recording of Ebinecks(singer/Rednecks).
insane noise maniacs are obsessive much about particles of noise sound,Italian chaotic noise pollution makes you deafness! they put new idea like Amebix sound a little, also includings 80's UK HC influenced to artworks. it's like dirty stench core chrusher crust. Hardcore Pollution beats the rotten system and buries them to darkness! feel the present hardcore punk arise!
800円/800yen
Hey ho Let's go!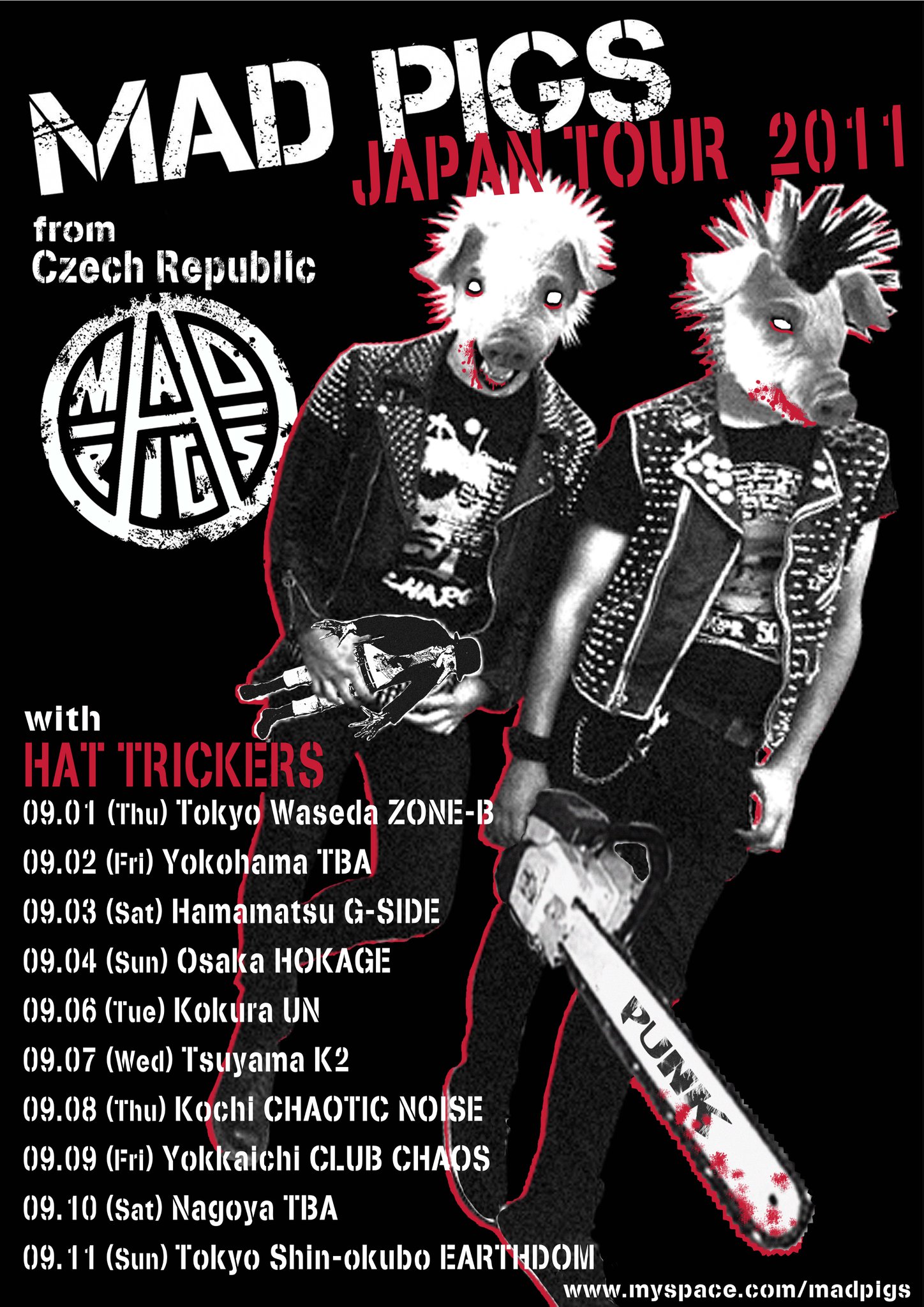 DeeJay on this week!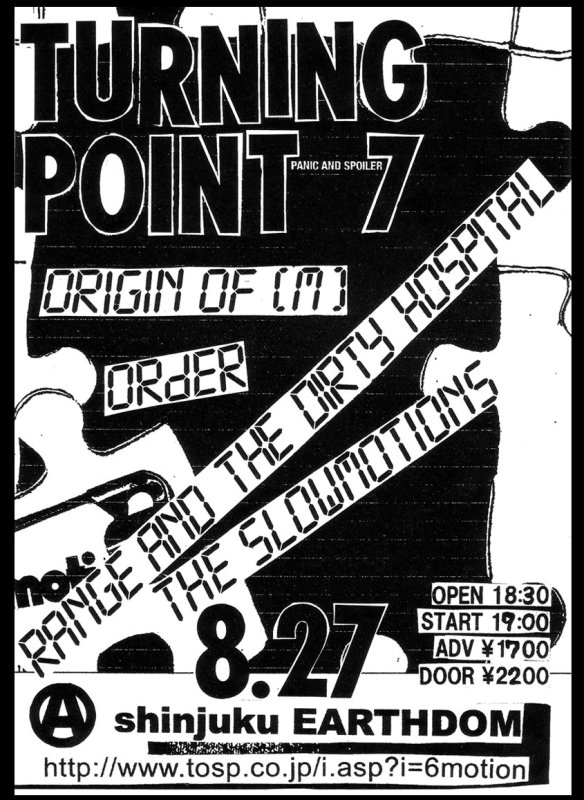 MOB47東京最終日、前売りチケット発売中です。宜しくお願い致します。




adv ticket:

BASE, BOY, NAT, EARTH DOM, UK EXTRA, e-plus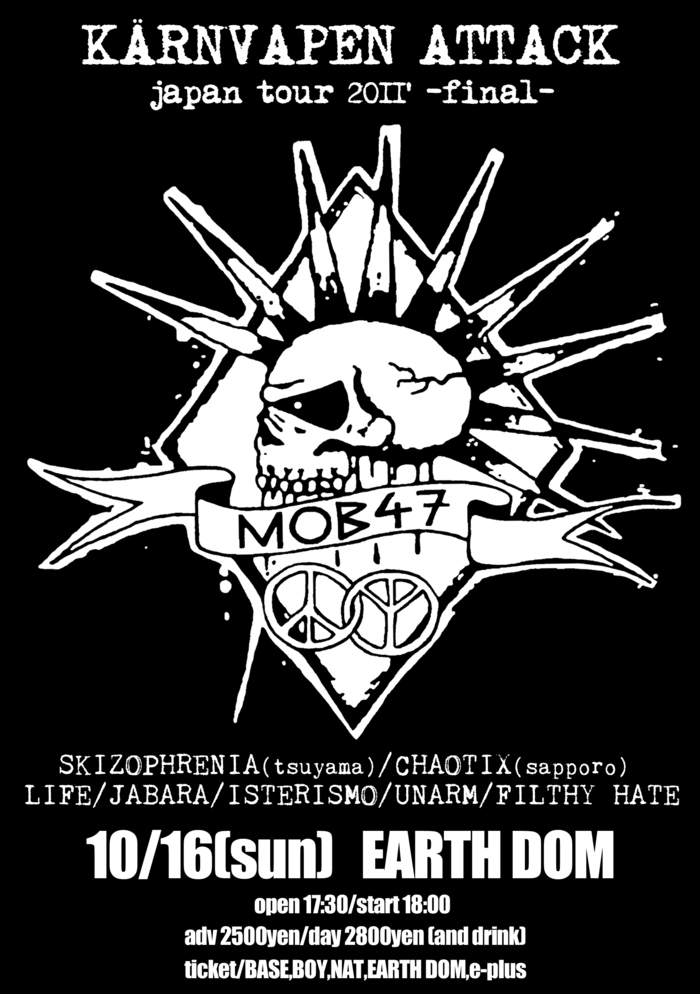 10/16(sun)@EARTH DOM




MOB47(sweden)
SKIZOPHRENIA(tsuyama)
CHAOTIX(sapporo)
LIFE
JABARA
ISTERISMO
UNARM
FILTHY HATE


open 17:30
start 18:00

adv 2500yen
day 2800yen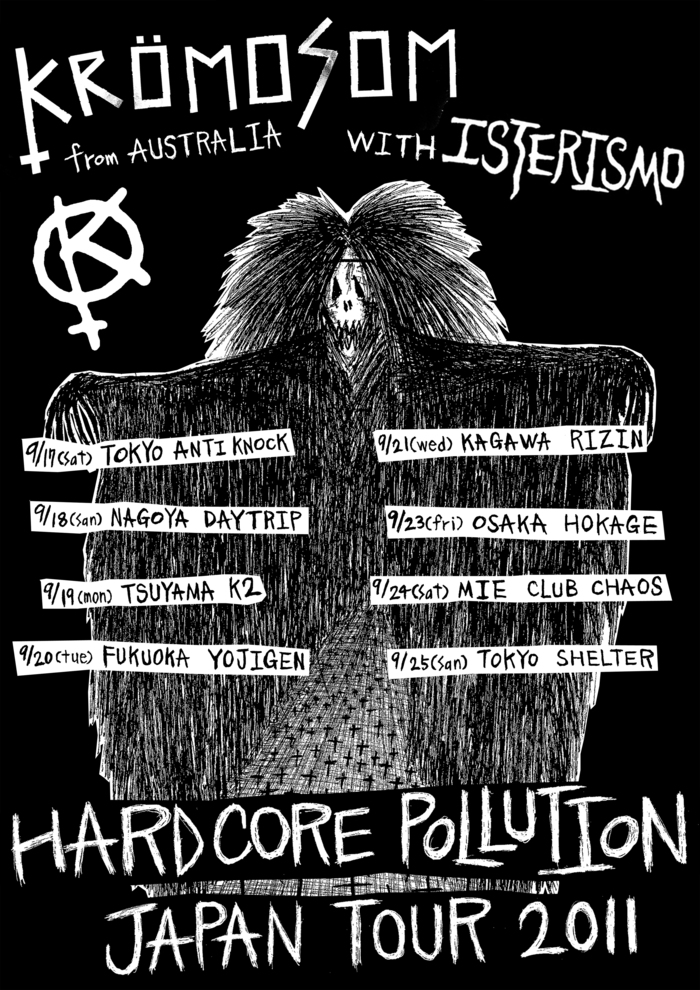 Kromosom/Isterismo
「HARDCORE POLLUTION JAPAN TOUR 2011」



9/17(sat)- Tokyo @ Antiknock w/ Ferocious X, Life, Gauze, Avfall, Filthy Hate, ATF

9/18(sun)- Nagoya @ Daytrip w/ Reality Crisis,System Fucker, Attack SS, Shock Troop, D-Clone

9/19(mon)- Tsuyama @ K2 w/ Nightmare, Disturd, Death Dust Extractor, Massgrave, Last, Skizophrenia

9/20(tue)-Fukuoka @ Yogijen w/ AI, Nemesis, End of Pollution DJ/ Nori, Jon

9/21(wed)- Kagawa @ Rizin w/ Akka, Suicidead, Aggression, Axewield

9/23(fri)- Osaka @ Hokage w/ Attack SS, Death Dust Extractor, Zyanose, Last Sentence, Framtid

9/24(sat)- Mie @ Club Chaos w/ Reality crisis, Contrast Attitude, Persevere, Acrostix

9/25(sun)- Tokyo @ Shelter w/ Forward, Rednecks, Unarm, Asmodeus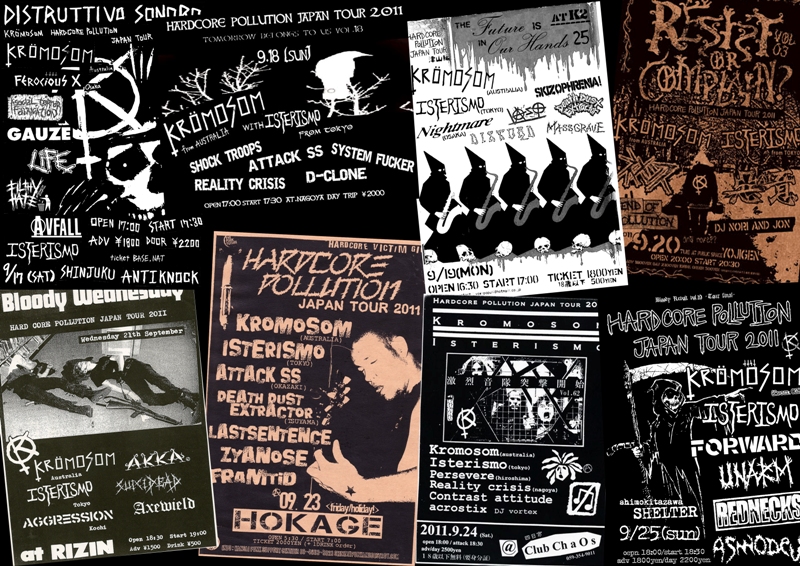 今年で3年目!肝臓イタポヨ!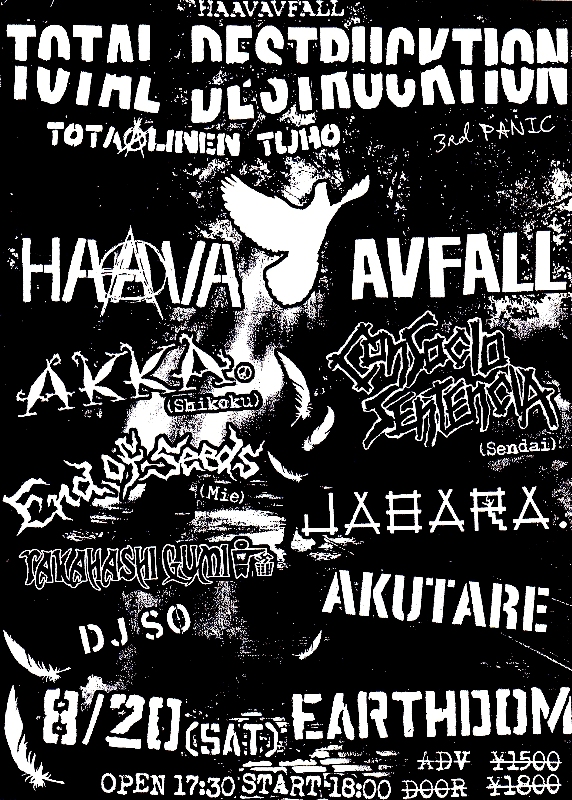 8/20(sat) @ EARTH DOM





Total Destrucktion 3rd panic!




AKKA (shikoku)
CONSOCIO SENTENCIA (sendai)
END OF SEEDS (mie)
JABARA
AKUTARE
TAKAHASHI GUMI
HAAVA
AVFALL


DJ:SO



◆OPEN 17:30 / START 18:00
◆ADV 1500yen/DOOR 1800yen (and drink)
Hello there, these're distributors of Kromosom/Isterismo split ep for overseas.
they will have it in end of August or early September. please get it from your friends and neighbors.
BLACK SEEDS (malaysia)
BLINDEAD PRODUCTIONS (sweden)
BEARDED BUTCHER (usa)
CELEBRATED SUMMER (usa)
CRUCIFICADOS RECORDS (germany)
DAVID PHILLIPS (usa)
DISTORT REALITY (usa)
END OF AN EAR (usa)
FERALWARD (usa)
GASMASK RECORDS (czech)
HARDWARE RECORDS (germany)
HEARTFIRST RECORDINGS (germany)
INSANE SOCIETY (czech)
JAKOB GAULHOFER (austria)
LA VIDA ES UN MUS (uk)
MIKE/INFLAMMABLE (uk)
MURDOCH STAFFORD (australia)
NO PATIENCE (australia)
PHOBIA RECORDS (czech)
PUKE'n'VOMIT (usa)
PUNK DISTRO (germany)
REPO MAN RECORDS (denmark)
RESCURE FROM LIFE RECORDS (usa)
SHOGUN RECORDINGS (france)
SOAP & SPIKES (usa)
SOLAR FUNERAL (usa)
SOLO PAPA PUNX (spain)
SRS (germany)
STATIC SHOCK MUSIK (germany)
UPSIDEDOWN NOISE (uk)
VELTREDREGNUB (usa)
VINYL CONFLICT (usa)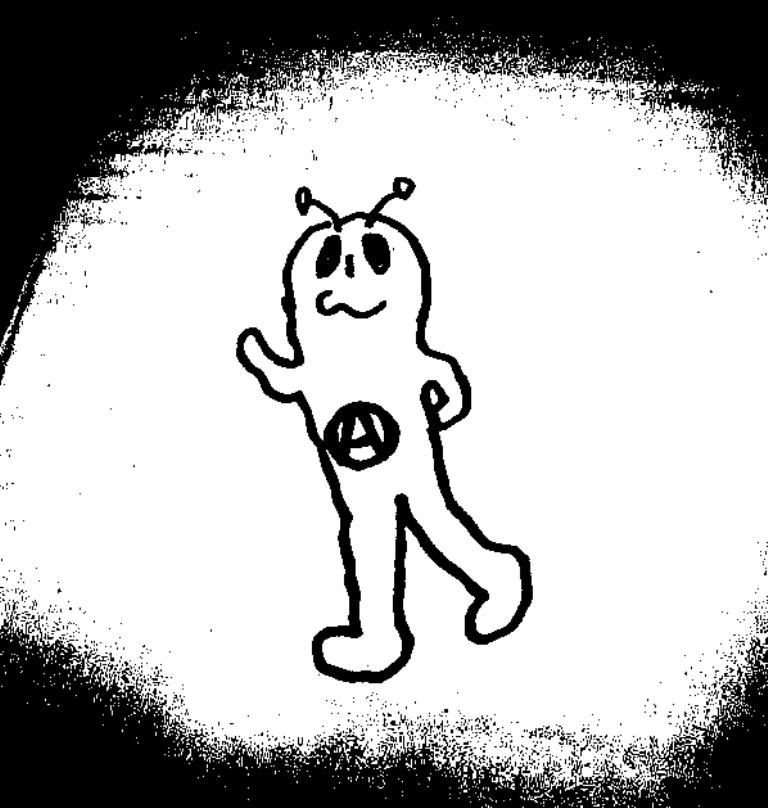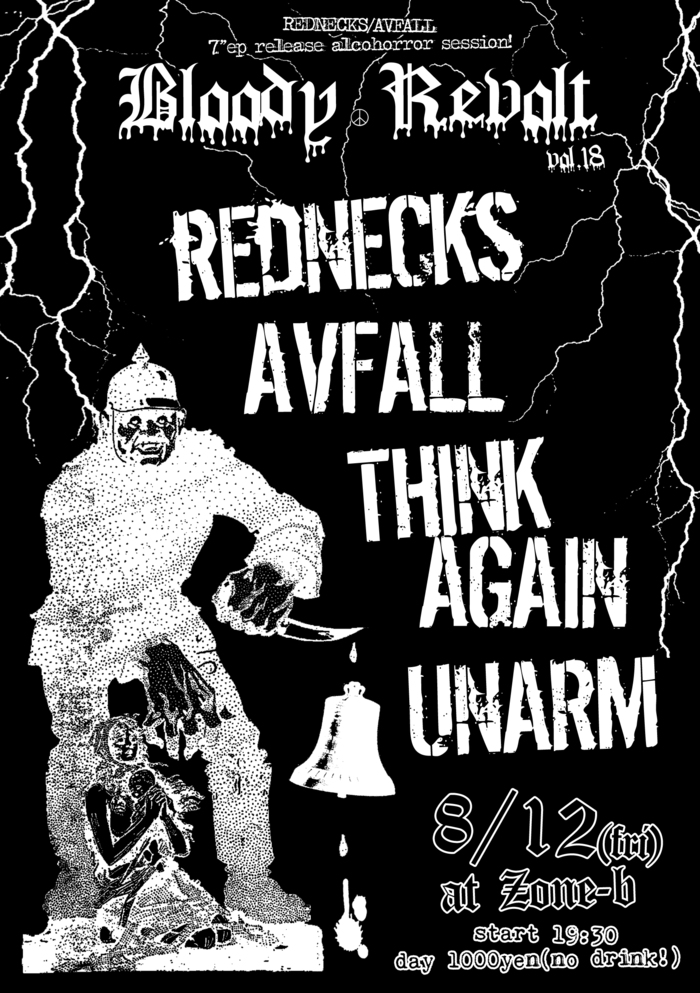 Bloody Revolt vol.18




"REDNECKS&AVFALL 7"ep release alcohorror session"




8/12(fri)@ZONE-B


REDNECKS
AVFALL
THINK AGAIN
UNARM


start 19:30
day 1000yen(no drink charge!)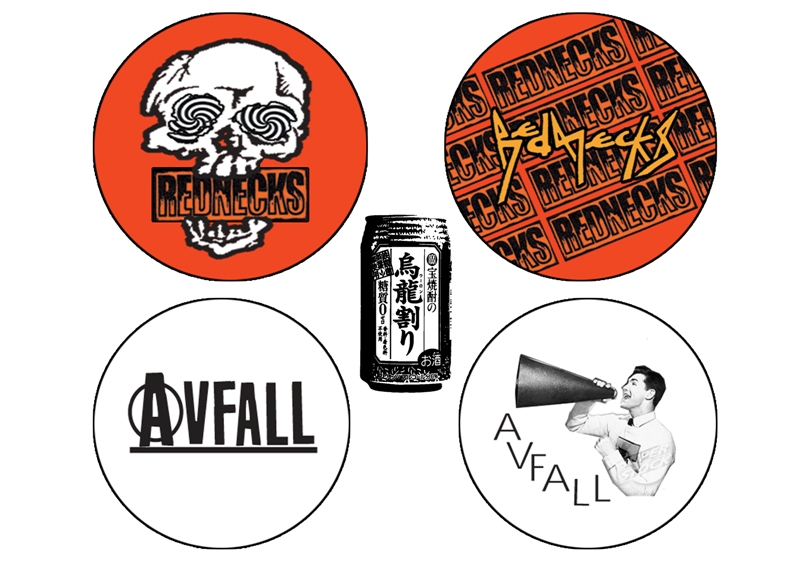 1000yenポッキリ!入場者バッジ4種贈呈!ウーロンハイ呑み放題!



コッソリ作ったカラー盤も出品とか~。
あのkilling yourself to liveも新作テーシャツを出店とか~。
A.T.F初企画!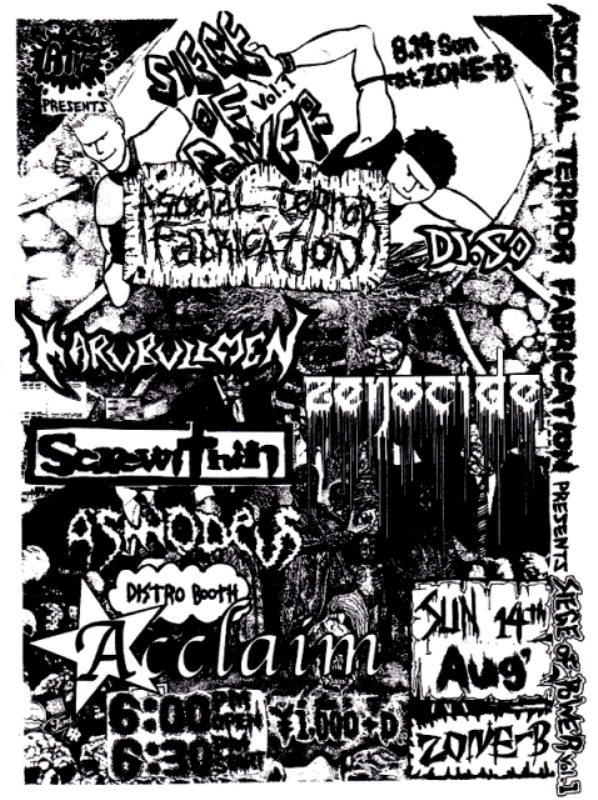 8/14(sun) @ ZONE-B





SIEGE OF POWER vol.1




ASOCIAL TERROR FABRICATION
MARUBULLMEN
SCREWITHIN
ZENOCIDE
ASMODEUS


distro booth:ACCLAIM

dj:SO


◆OPEN 17:30 / START 18:00
◆DOOR 1000yen (and drink)
8月9日、長崎出身STAGNATION/Cのアズサが毎年企画する意義深いライブ。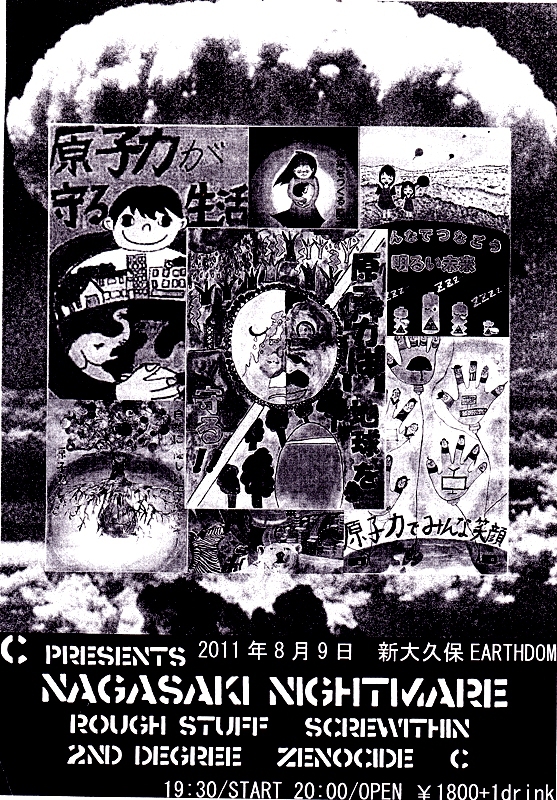 8/9(tue) @ EARTH DOM





NAGASAKI NIGHTMARE




ROUGH STUFF
SCREWITHIN
2ND DEGREE
ZENOCIDE
C


◆OPEN 19:30 / START 20:00
◆DOOR 1800yen (and drink)