満身創痍! This weekend dj onslaught!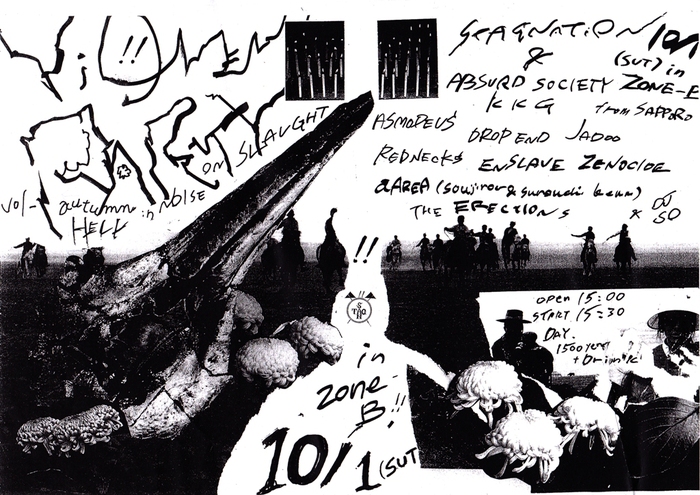 10月1日(sat) @ ZONE-B




STAGNATION presents
"VIOLENT PARTY vol.autumn hell- in noise onslaught"


STAGNATION
ABSURD SOCIETY (sapporo)
KKG (sapporo)
ASMODEUS
DROPEND
JADOO
ENSLAVE
αAREA (soujirou&sunouchi kemm)
THE ERECTIONS
ZENOCIDE
REDNECKS

DJ:SO


open 15:00
start 15:30

door/1500yen + drink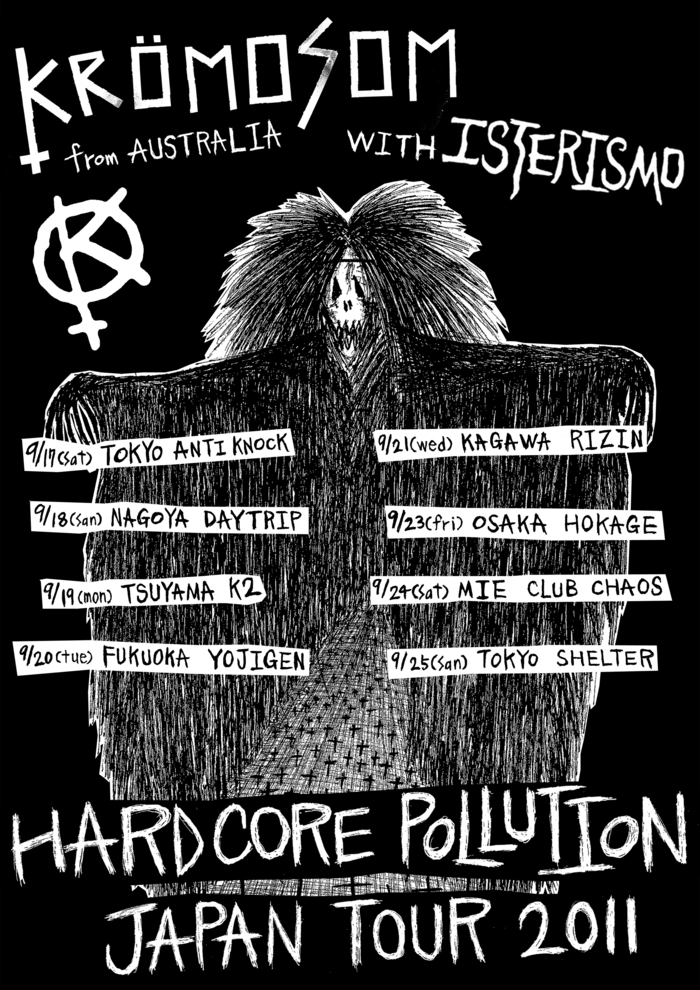 Kromosom/Isterismo
「HARDCORE POLLUTION JAPAN TOUR 2011」




9/16(fri) - Tokyo @

Asagaya Gamuso "welcome party"

9/17(sat)- Tokyo @ Antiknock w/ Ferocious X, Life, Gauze, Avfall, Filthy Hate, ATF

9/18(sun)- Nagoya @ Daytrip w/ Reality Crisis,System Fucker, Attack SS, Shock Troop, D-Clone

9/19(mon)- Tsuyama @ K2 w/ Nightmare, Disturd, Death Dust Extractor, Massgrave, Last, Skizophrenia

9/20(tue)-Fukuoka @ Yogijen w/ AI, Nemesis, End of Pollution DJ/ Nori, Jon

9/21(wed)- Kagawa @ Rizin w/ Akka, Suicidead, Aggression, Axewield

9/23(fri)- Osaka @ Hokage w/ Attack SS, Death Dust Extractor, Zyanose, Last Sentence, Framtid

9/24(sat)- Mie @ Club Chaos w/ Reality crisis, Contrast Attitude, Persevere, Acrostix

9/25(sun)- Tokyo @ Shelter w/ Forward, Rednecks, Unarm, Asmodeus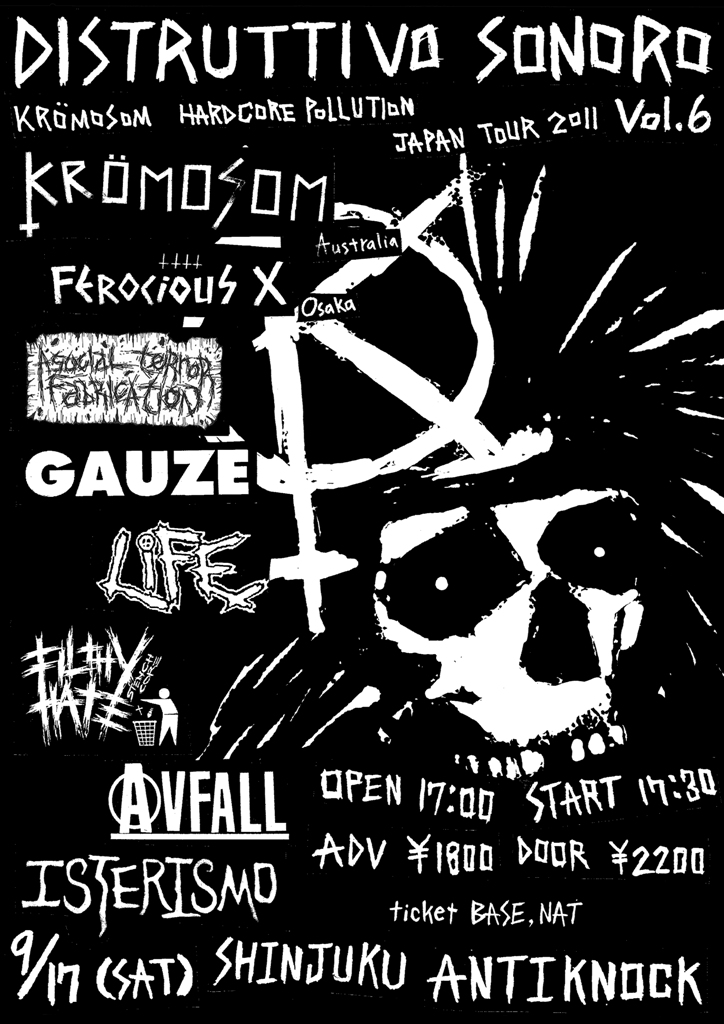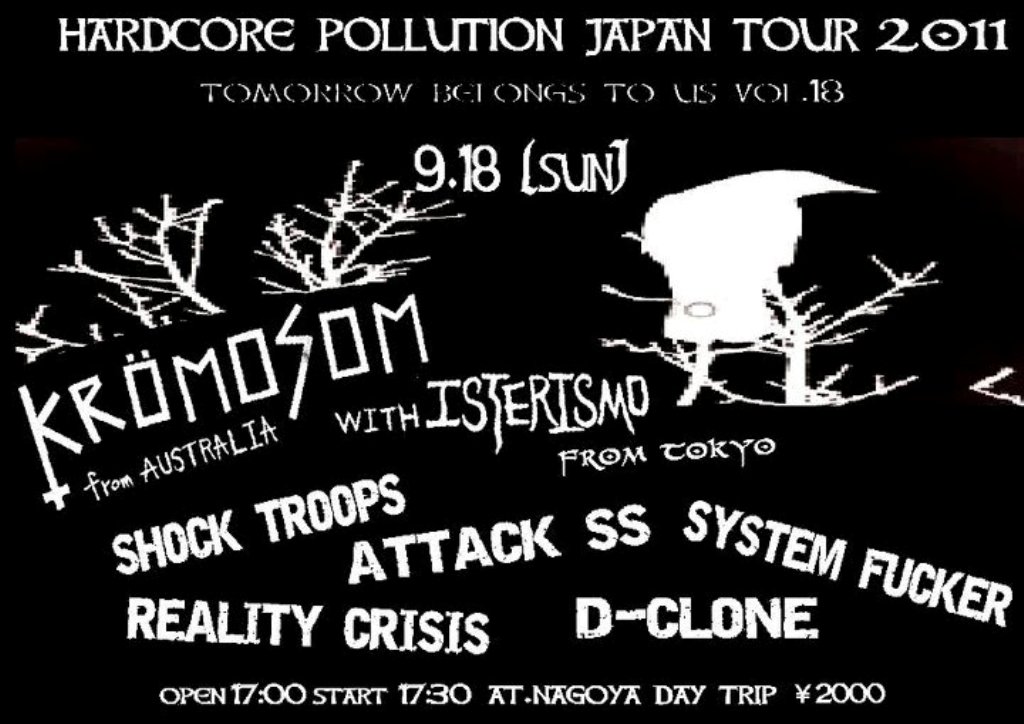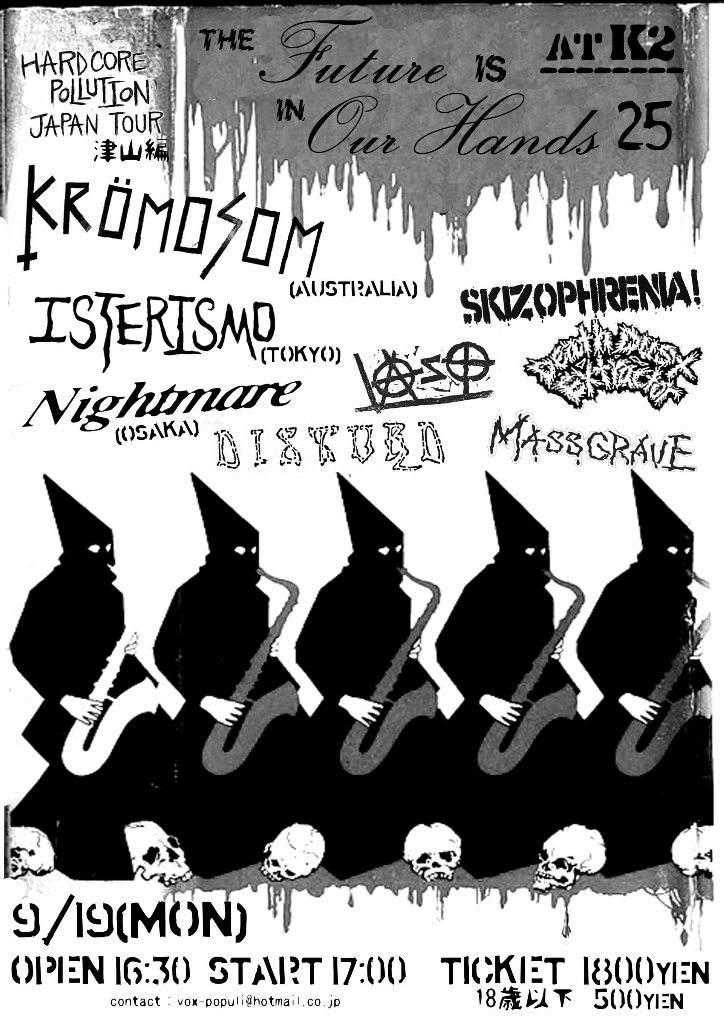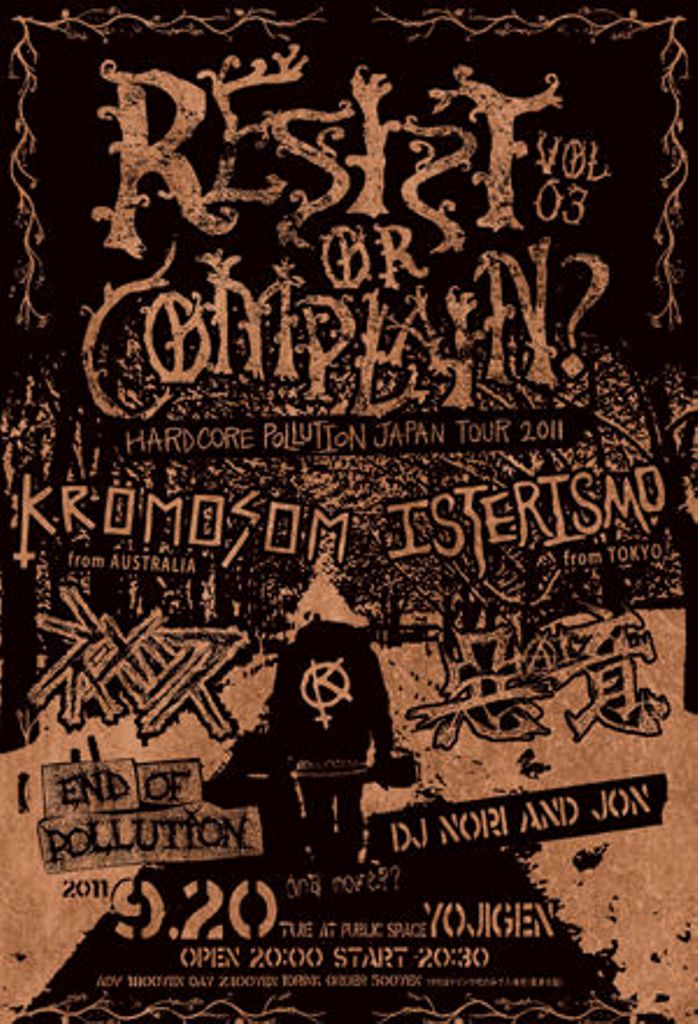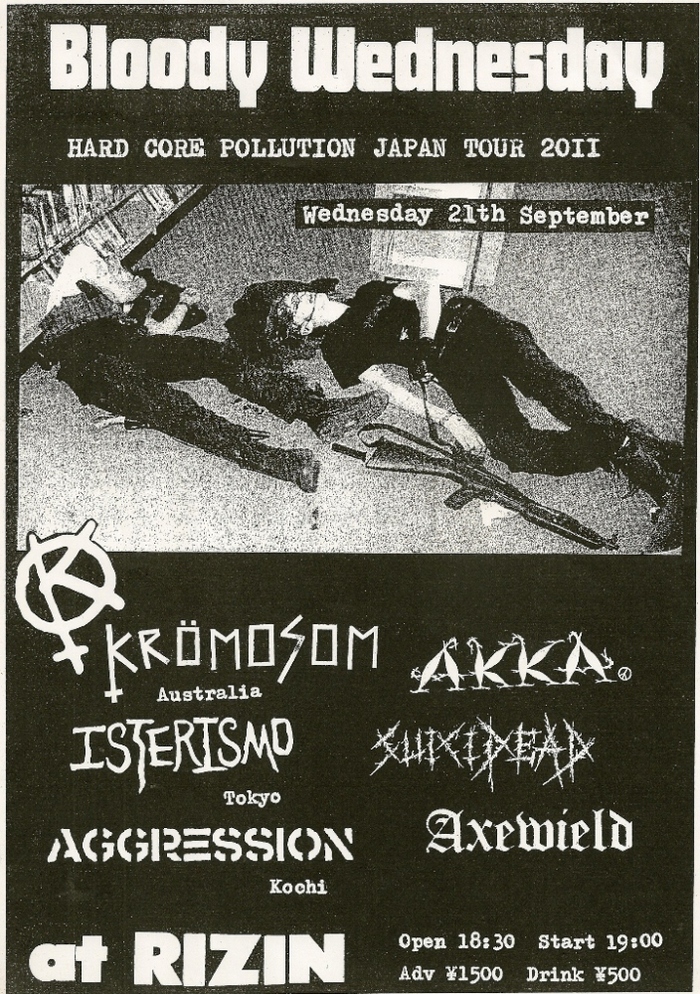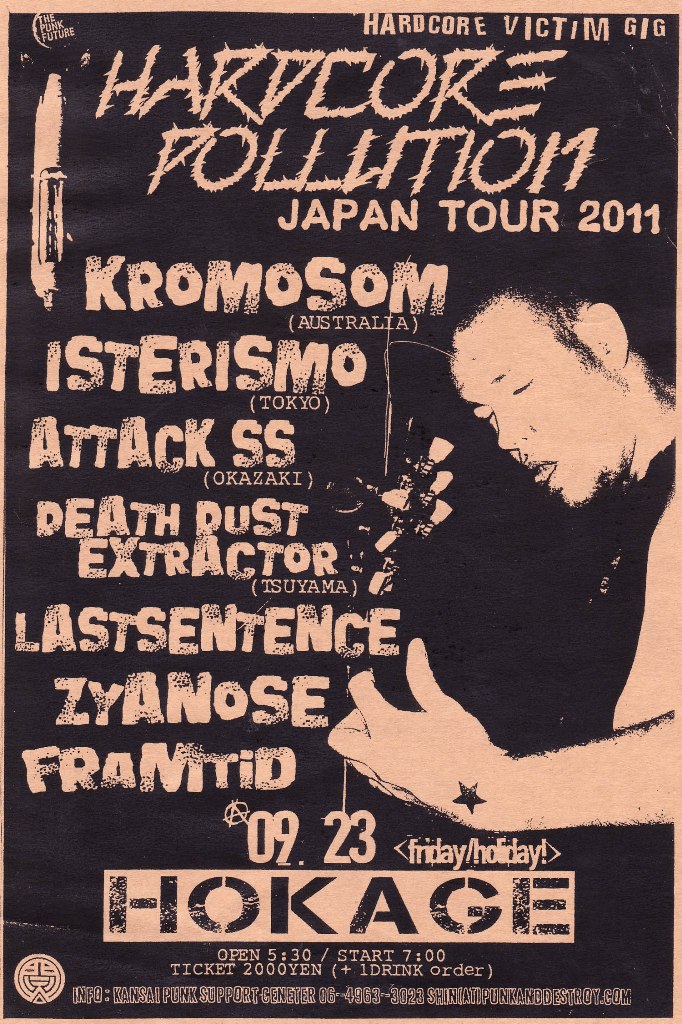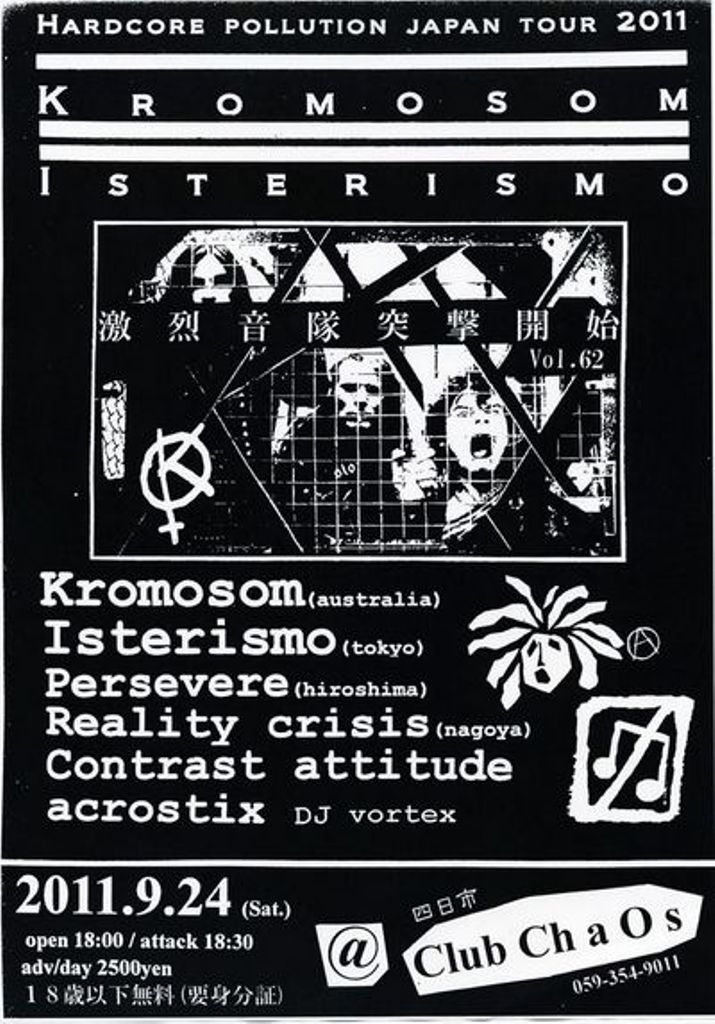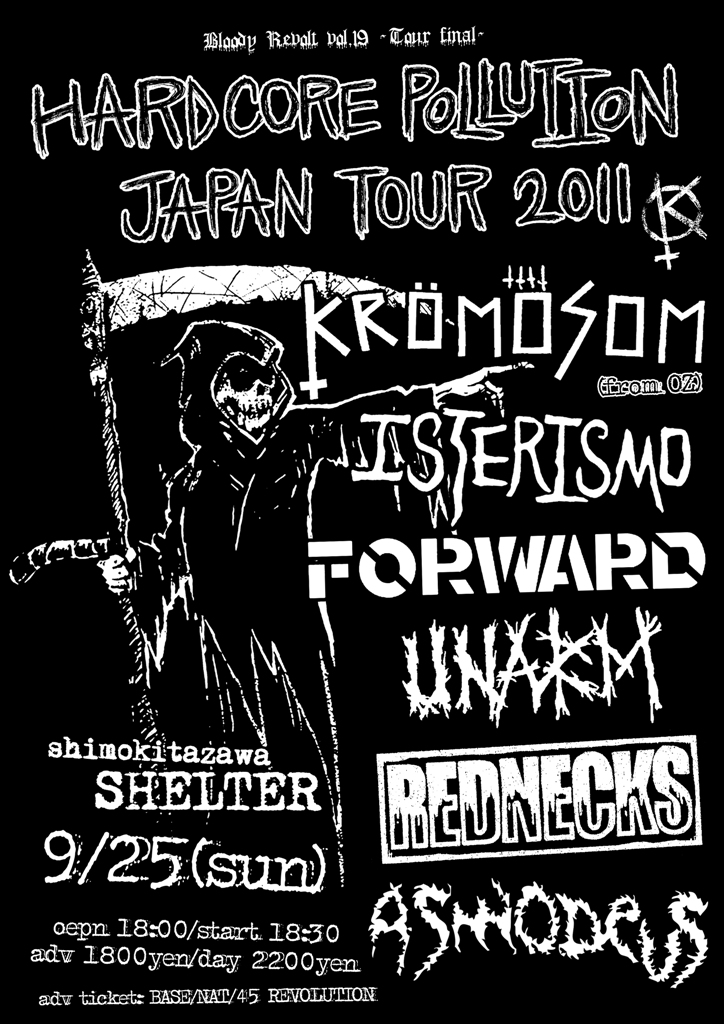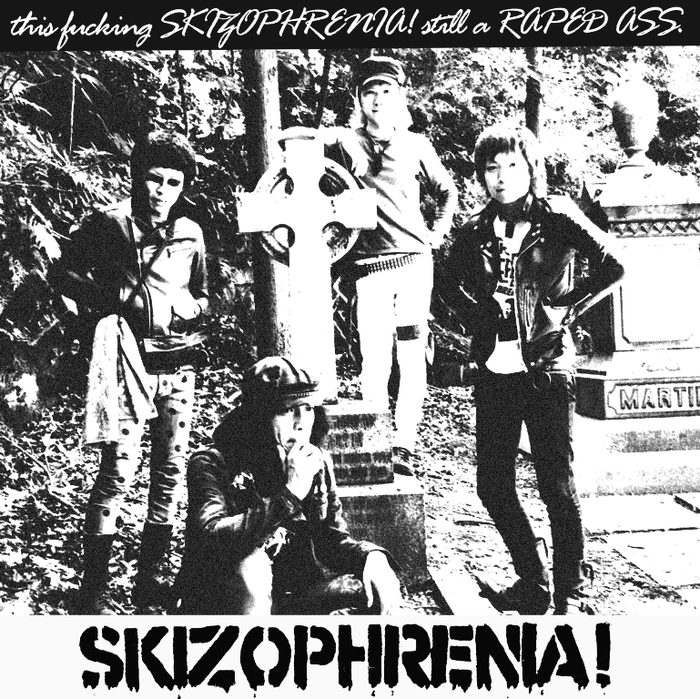 SKIZOPHRENIA!




- s/t 7"ep

(HCS-024)
THE FUTURE IS IN OUR HANDS!津山が生んだ至宝SKIZOPHRENIA!
遂に来たぜ!1st epから実に3年半振りとなる単独2nd ep。アイデア・エナジー・カルチャー・食&酒、様々な手法で巻き込むパンク・タイフーンの目の如し津山シティを日本全国/全世界へと発信し続ける彼等。バンド名を羅列する事にはもはや意味を成さないが、80年代初頭のHARDCORE PUNK黎明期に生み出された荒れ狂うUK/FINLAND/SWEDEN等々の粗野で無骨なRAW PUNKバンド群を飲み込み吐き出される文字通りのRAW PUNK E.A.T.E.R.!一聴すれば口ずさめるキャッチーなメロディーリフ、うねるベースライン、正にあの当時のバンドに比喩される様なRAWドラミングAS HELL!よりメロディアスに歌うスクリームは行き場の無い僕ラの未来への魂の叫び!4者4様のオリジナリティー溢れるパートが渾然一体となって一撃でアナタのハートを打ち抜き、見えない明日を光を灯す全4曲!
※本タイトルはSTATE POISONのメンバーが運営します、KICK ROCKレーベルよりヨーロッパ盤も10月中にリリースされる予定です。
----------------------------------------------------------------------------------------------------
※This ep will be also released on KICK ROCK label who runs by member of State Poison from france. If you want Europian edition, please keep in touch with him.
KICK ROCK
The future is in our hands! Here comes 2nd ep of japanese great treasure Skizophrenia from Tsuyama punk city. it's put out for 1st ep in 3 years and half. they've affected to all over Japanese punk scene and tour bands from overseas by their various ideas, energy, culture, food and drink. it's like the eye of punk typhoon in here. you will know what a great bands/place in such a country side. it's meaningless to mention the band names for their sound, if it has to say dawn of hardcore punk early 80's intense raw punk, eat and puke these UK82'/Finland/Sweden bands. Bristles, Kohu-63, Nukketeatteri, Appendix etc…This is just name of Raw Punk E.A.T.E.R.! catchy guitar riff, roaring bass line, raw drumming as hell that sound like 80's "cardboard drumming". melodious screaming shouts for our future that nowhere to go. full of 4parts originality will attack to your heart and light up for tomorrow!
800円/800yen

発売日/10月8日
release date/8th Oct
mail:kaotik-hero[a]hotmail.co.jp
KROMOSOM/ISTERISMO "hardcore pollution japan tour 2011"!
welcome party 2 bands show! 最初で最後?お洒落なBARを混沌に染める!


9/16(fri)@阿佐ヶ谷GAMUSO




start 20:00



no charge!
持ち込み厳禁!

drink 500yen~




All the people are welcomed!
way to GAMUSO:
JR阿佐ヶ谷駅北口を背にして左手~高架沿いのスターロードを歩き~居酒屋一休と酒蔵駒忠の間の道を右手~
突き当りにトーアフィットネスビル~その隣向かって左手2階のビルになります。 (徒歩3分)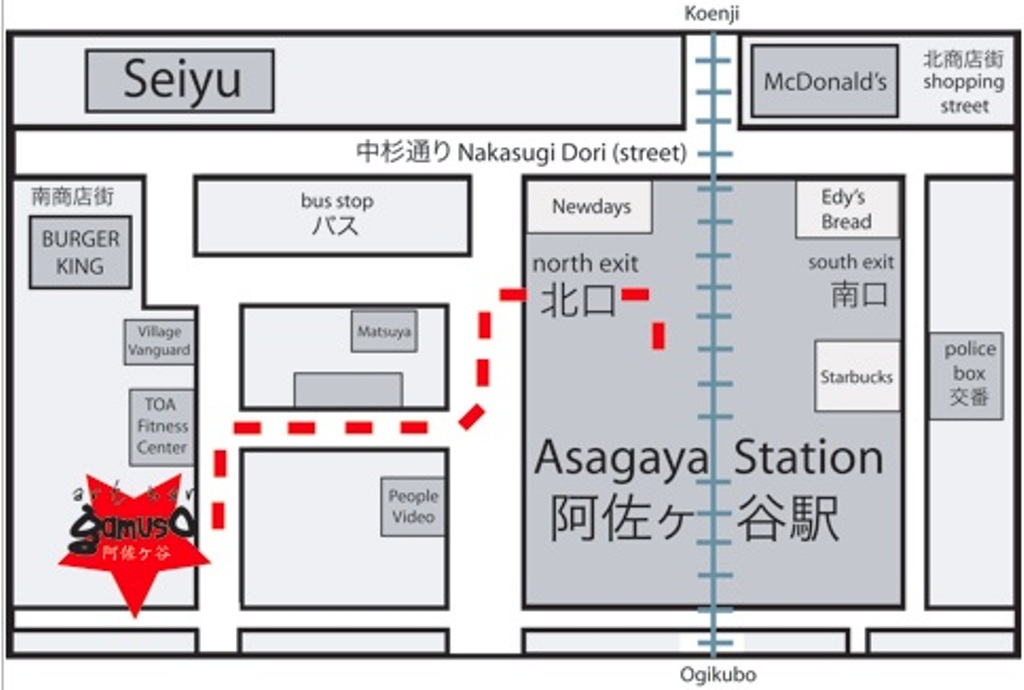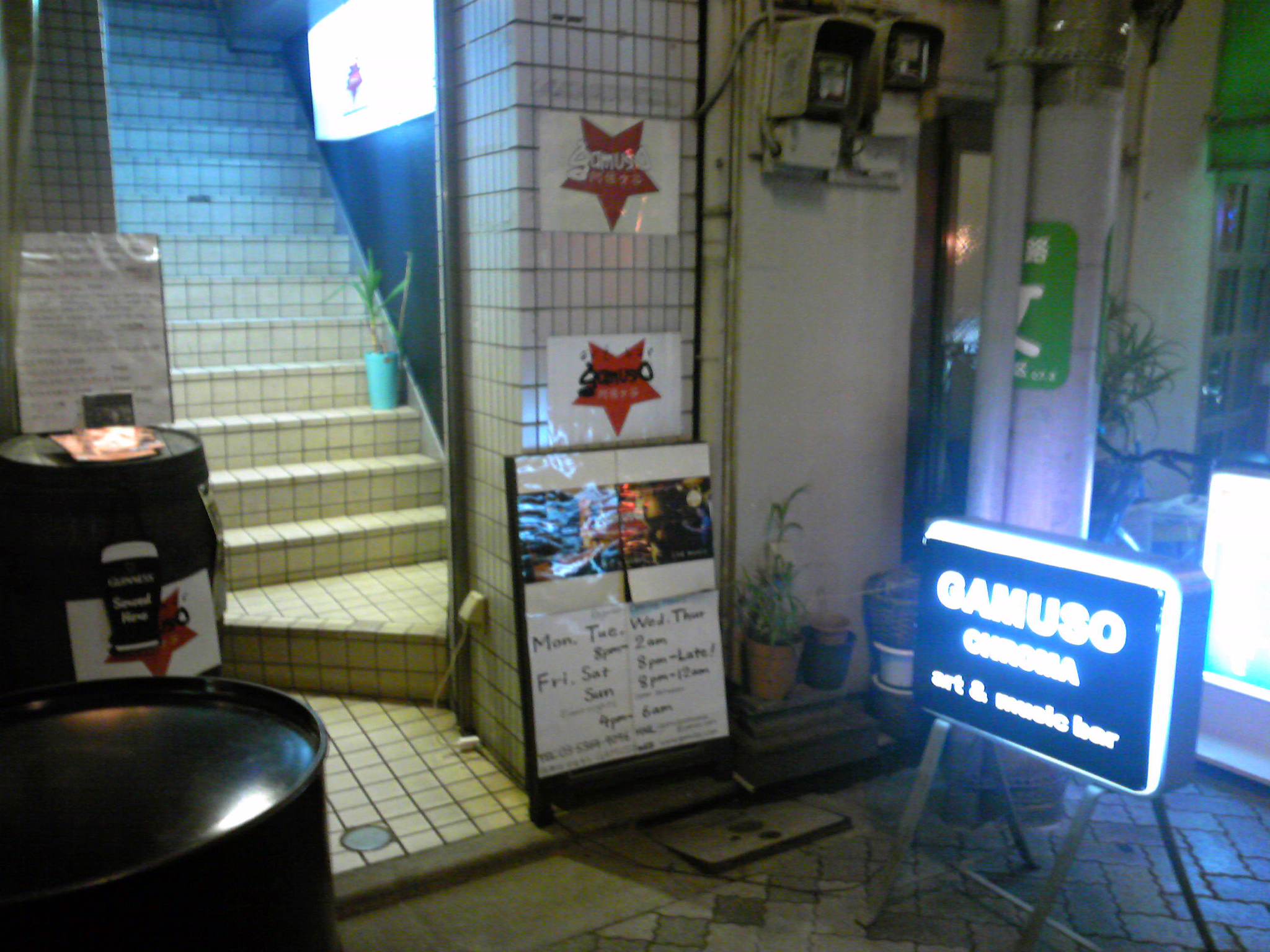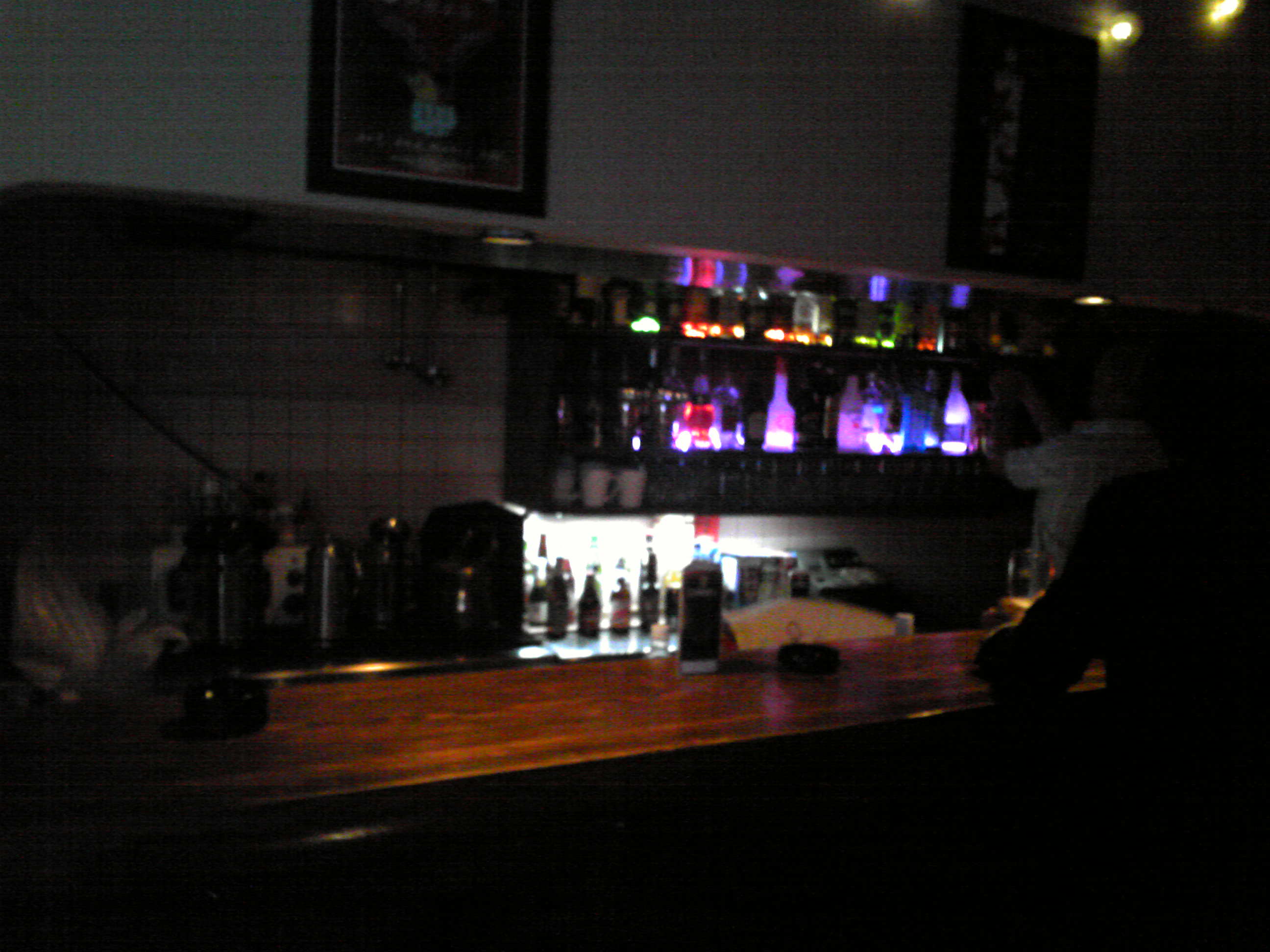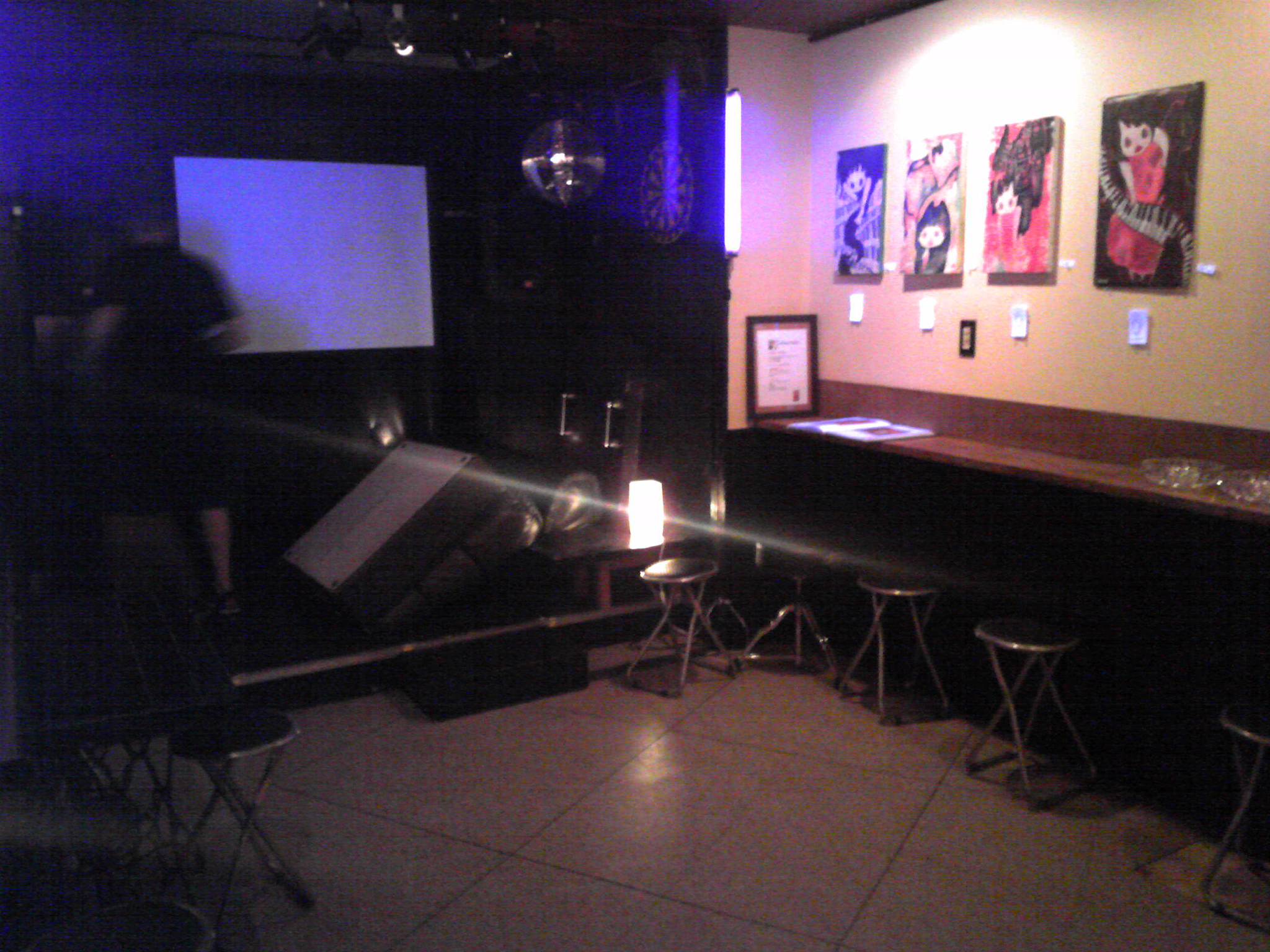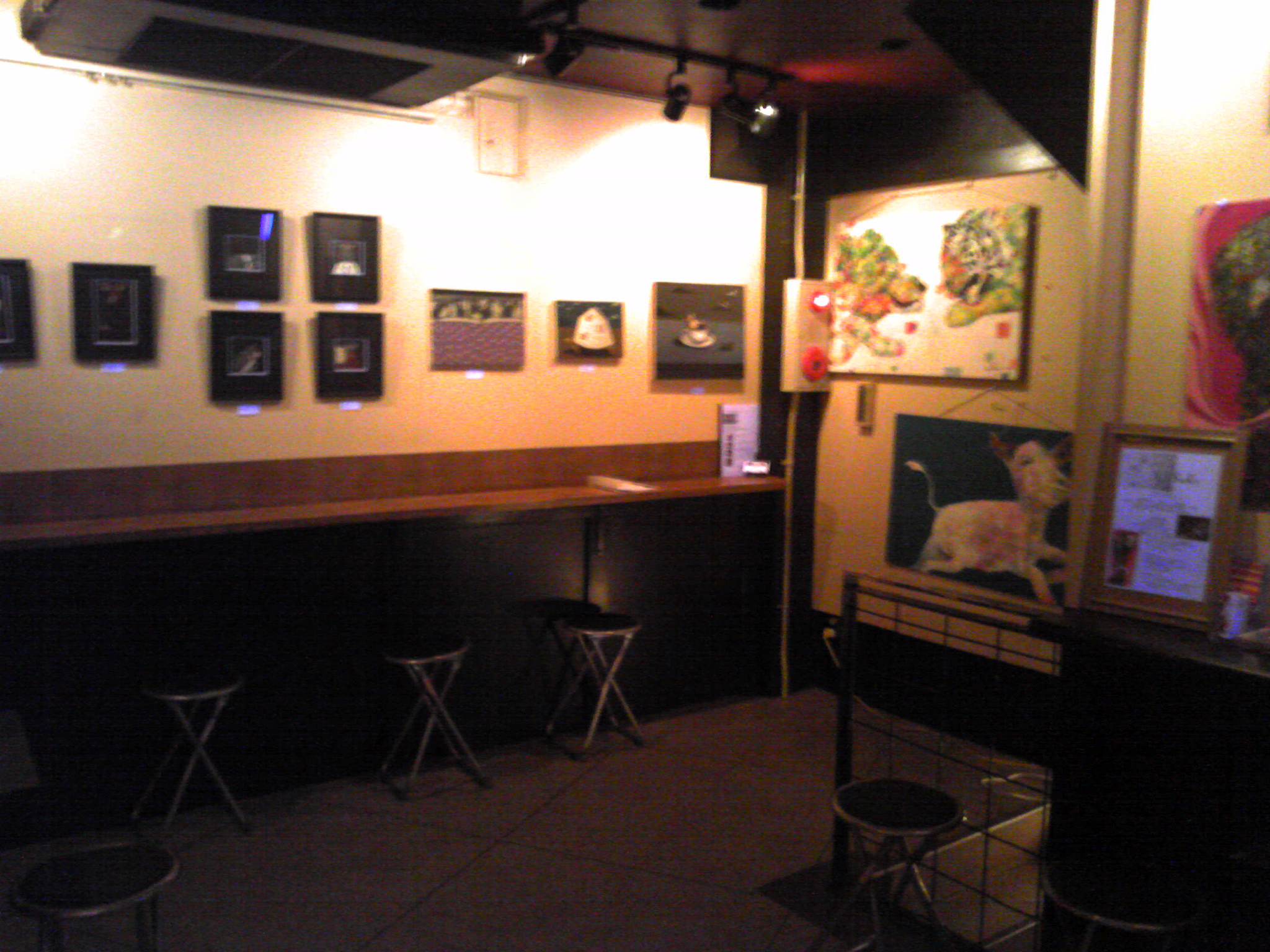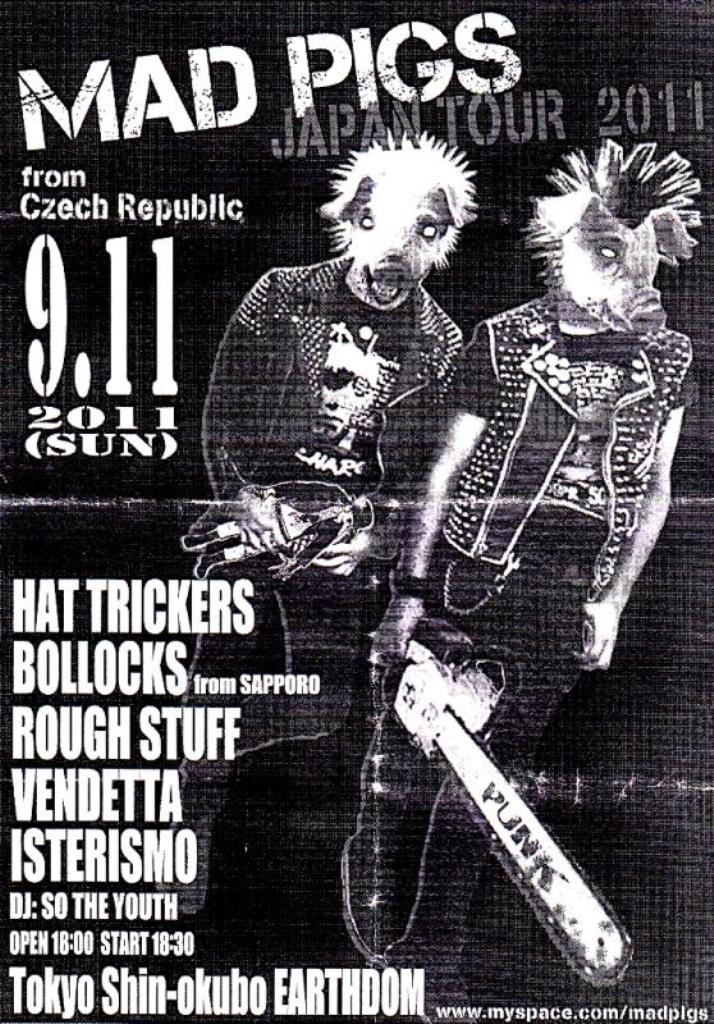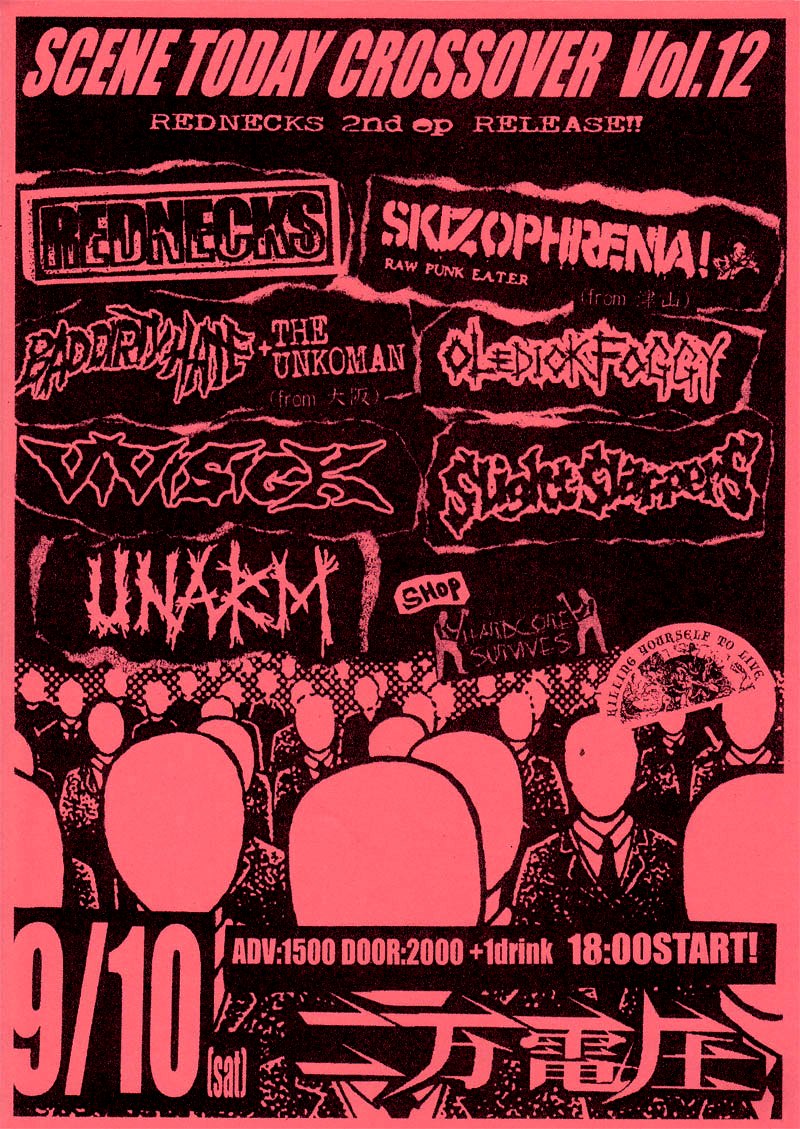 REDNECKS PRESENTS


"SCENE TODAY CROSSOVER vol.12"





REDNECKS 2nd EP release party




9/10(sat)@2万電圧


adv1500yen
day2000yen
(and drink)

start 18:00




-band-



REDNECKS
SKIZOPHRENIA!(from tsuyama)
BAD DIRTY HATE & THE UNKOMAN (from osaka)
OLEDICKFOGGY
SLIGHT SLAPPERS
VIVISICK
UNARM





-shop-



HARDCORE SURVIVES
KILLING YOURSELF TO LIVE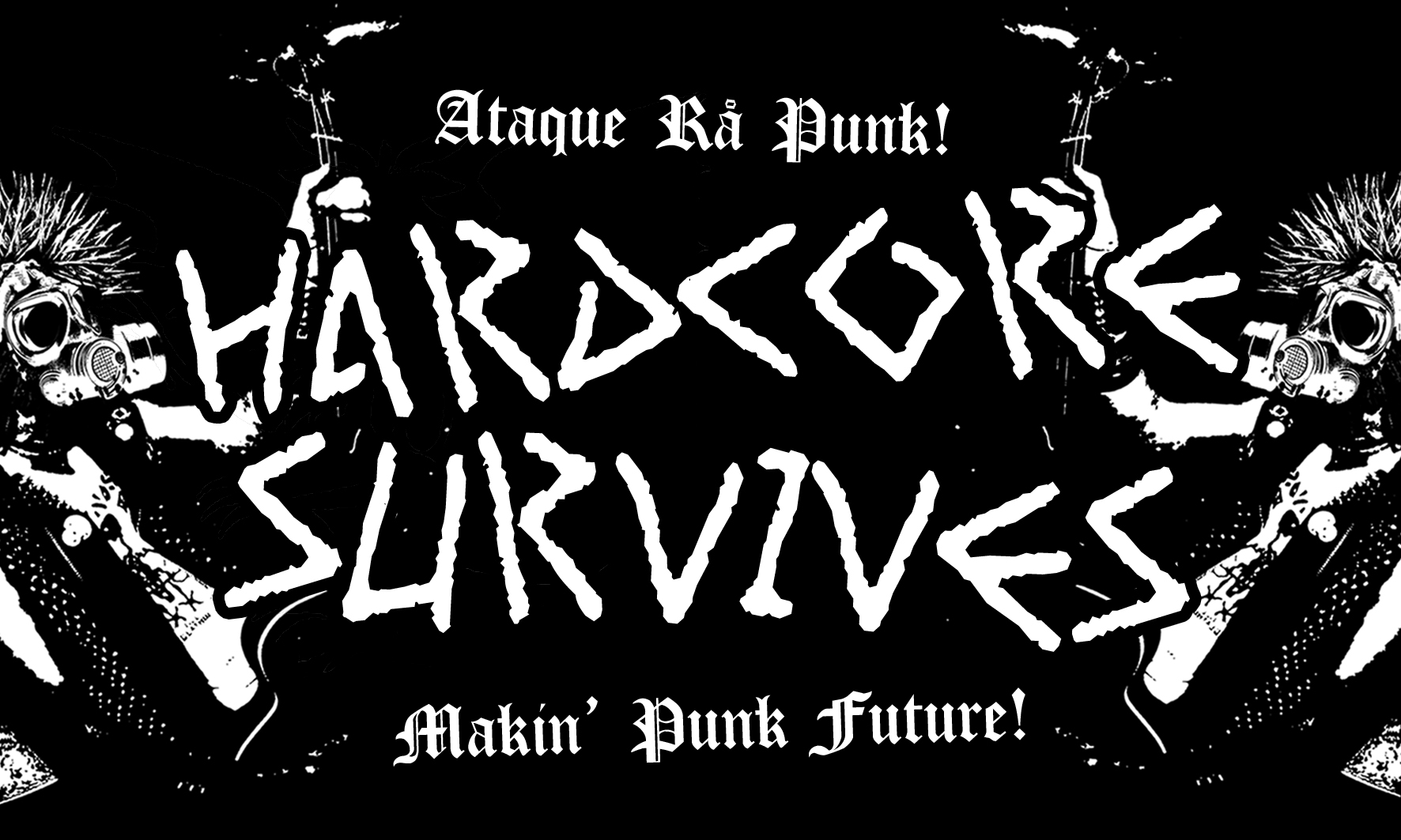 90mm x 150mm の上記ステッカーも販売致しま~す! 100yen!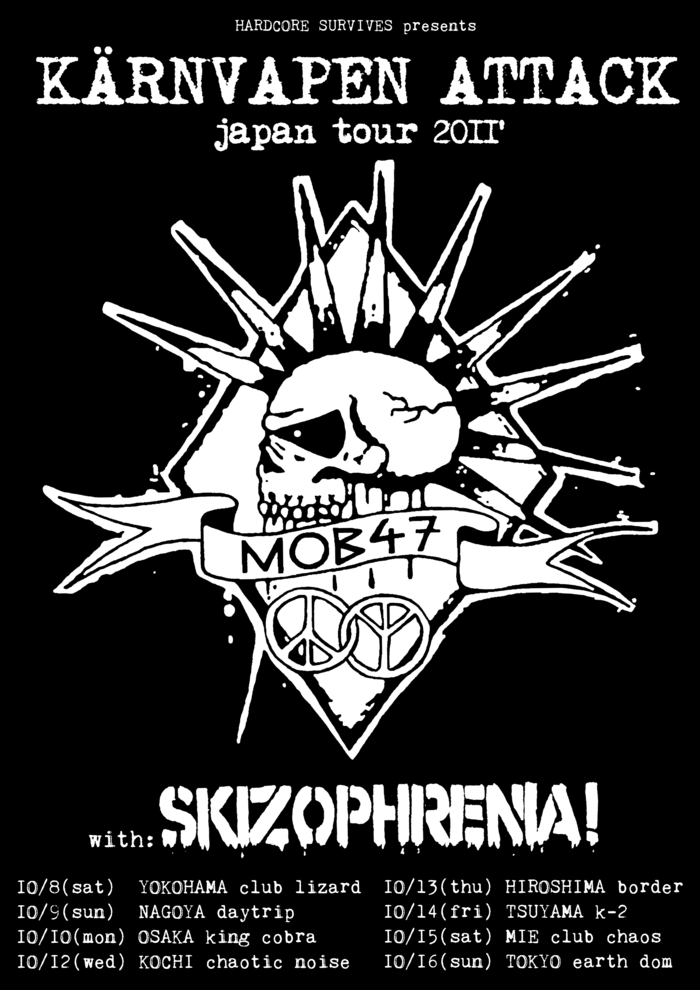 MOB47 with SKIZOPHRENIA
"kärnvapen attack japan tour 2011"
10/8(土)横浜 CLUB LIZARD
-
"PIPCUT GIG 2011 AUTUMN"
w/SYSTEMATIC DEATH
10/9(日)名古屋 DAYTRIP
-
"TOMORROW BELONGS TO US vol.19"
w/D-CLONE, OLEDICK FOGGY,
SYSTEM FUCKER, UNHOLY GRAVE, DIEDRO LOS DIABLOS
10/10(月/祝) 大阪 KING KOBRA
-
"HARDCORE VICTIM GIG"
w/FEROCIOUS X, LASTSENTENCE, ZYANOSE, BAD DIRTY HATE, TILLTRO, FRAMTID, DESPERAT
10/12(水)高知 CHAOTIC NOISE
-
"NOISE NOT MUSIC!!"
w/AKKA, AGGRESSION, CONCEPTION, DESPERAT
10/13(木)広島 BORDER
-
"NO U TURNS vol.23"
w/PERSEVERE, ORIGIN OF [M], ASPHALT
10/14(金)津山 K2
-
"未来ハ僕ラノ手ノ中 27"
w/DEATH DUST EXTRACTOR
"AFTER PARTY"
DESPERAT, LAST
10/15(土)三重 CLUB CHAOS
-
"激烈音隊突撃開始GIG"
w/ACROSTIX, END OF SEEDS, CONTRAST ATTITUDE
10/16(日)東京 EARTH DOM
-
"TOUR FINAL!"
w/CHAOTIX, LIFE, JABARA, ISTERISMO, UNARM,
FILTHY HATE, DESPERAT
※WAR VICTIMS/D-TAKT & RÅPUNKのJOCKE+MOB47のメンバーで構成されるDESPERATが大阪、高知、津山、東京の4ヶ所に出演します!