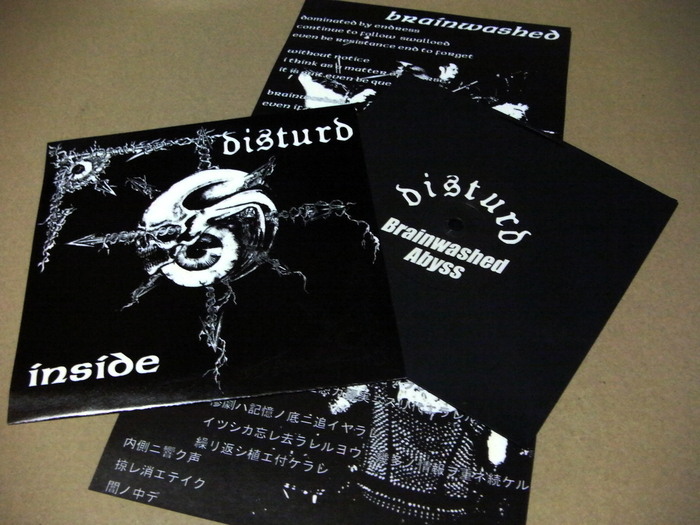 DISTURD -

inside 7"ep

(HCS-048)


for overseas: Please get it from them!

BLINDEAD PRODUCTIONS (swe)
DE:NIHIL (swe)
IMMINENT DESTRUCTION (uk)
KAPITALIZACE (czech)
LA VIDA ES UN MUS (uk)
NO FUCKING LABELS (hol)
PHOBIA (czech)
PUNK DISTRO (ger)
SOAP AND SPIKE (ca/usa)
SYMPHONY OF DESTRUCTION (fra)
VELTED REGNUB (nc/usa)




800yen



kaotik-hero[a]hotmail.co.jp
LAND OF THE CRYING SUN japan tour 2014'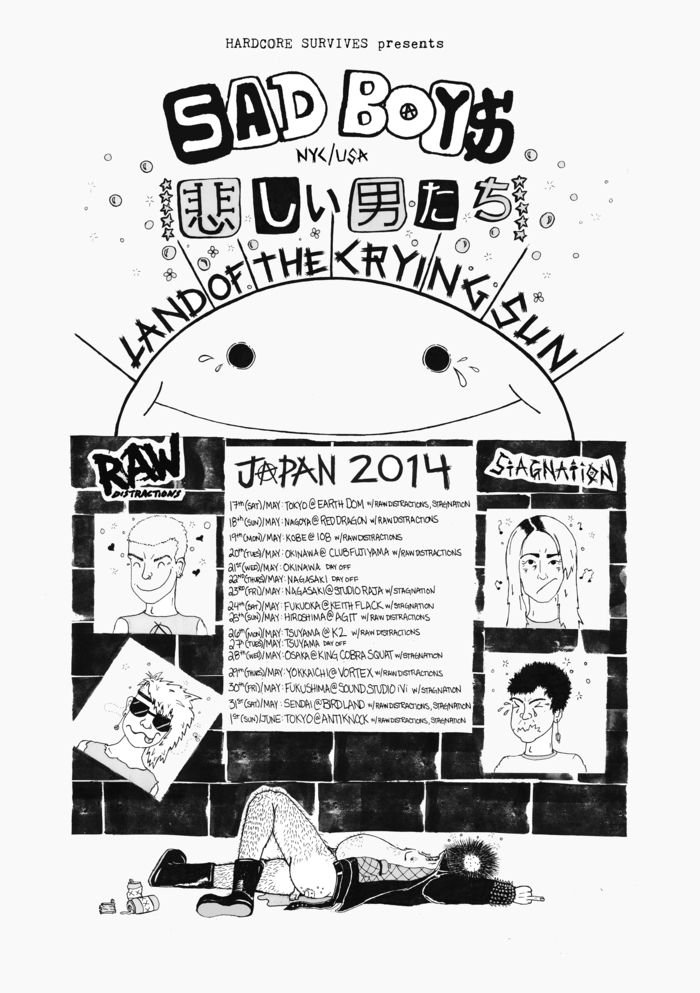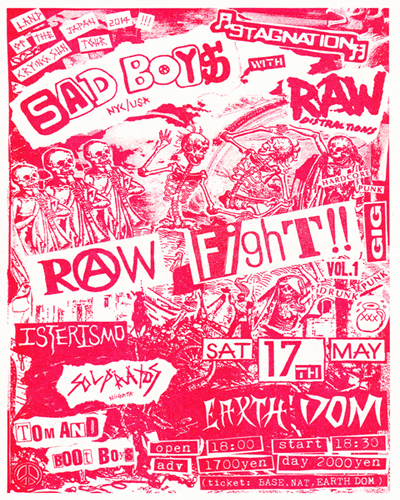 5/17 (sat) @ shinokubo EARTH DOM



"RAW FIGHT gig!! vol.1"

SAD BOYS (nyc/usa)
RAW DISTRACTIONS
STAGNATION
SOLPAATOS (niigata)
TOM AND BOOT BOYS
ISTERISMO


open 18:00/start 18:30
adv 1700yen/day 2000yen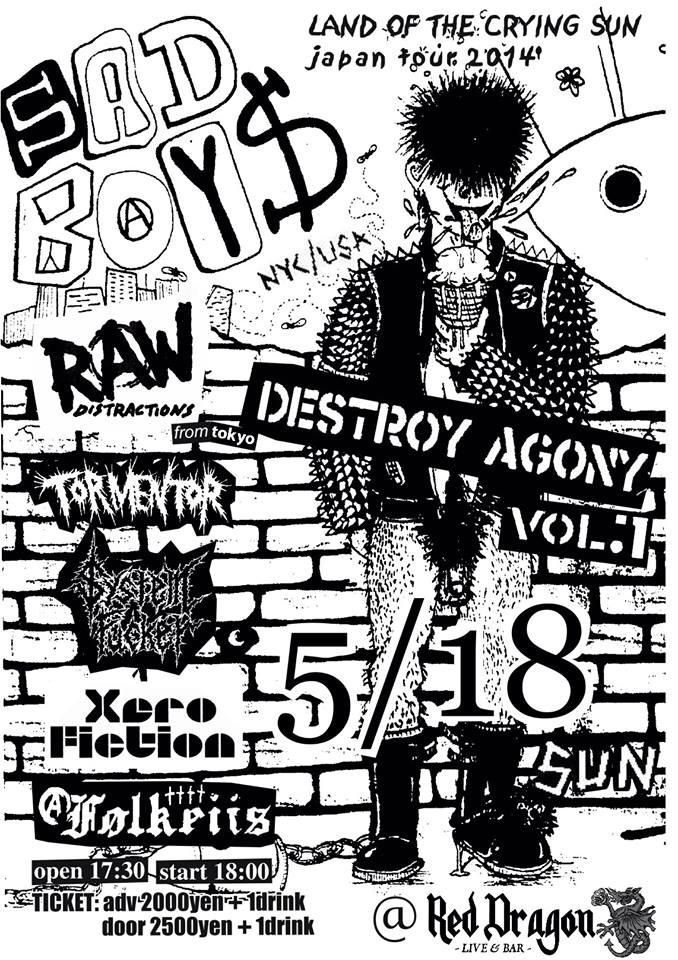 5/18 (sun) @ nagoya RED DRAGON

"DESTROY AGONY vol.7"

SAD BOYS (nyc/usa)
RAW DISTRACTIONS
TORMENTOR
SYSTEM FUCKER
XERO FICTION
FOLKEIIS


open 17:30/start 18:00
adv 2000yen/day 2500yen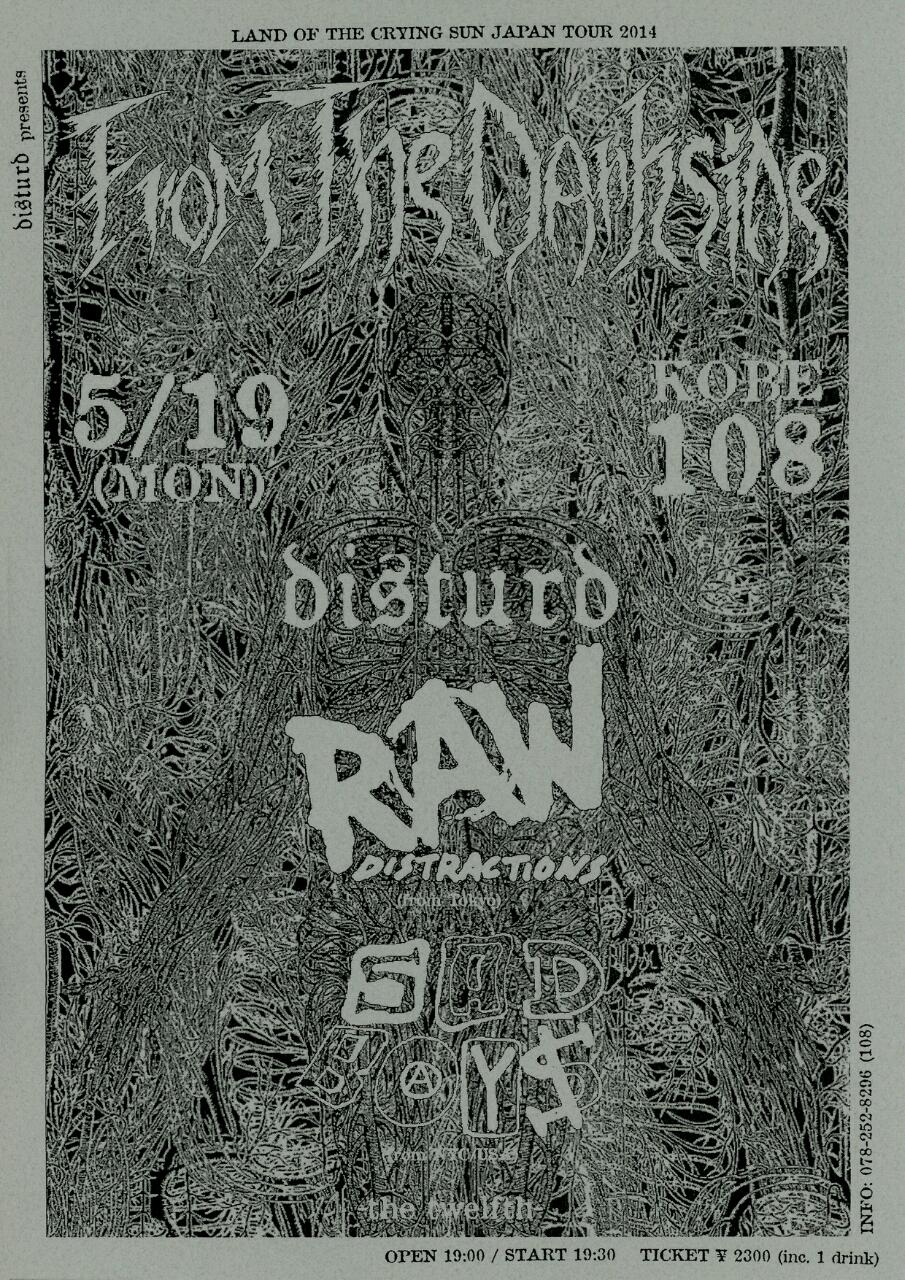 5/19 (mon) @ kobe 108



"FROM THE DARKNESS the twelfth"

SAD BOYS (nyc/usa)
RAW DISTRACTIONS
DISTURD


open 19:00/start 19:30
day 2300yen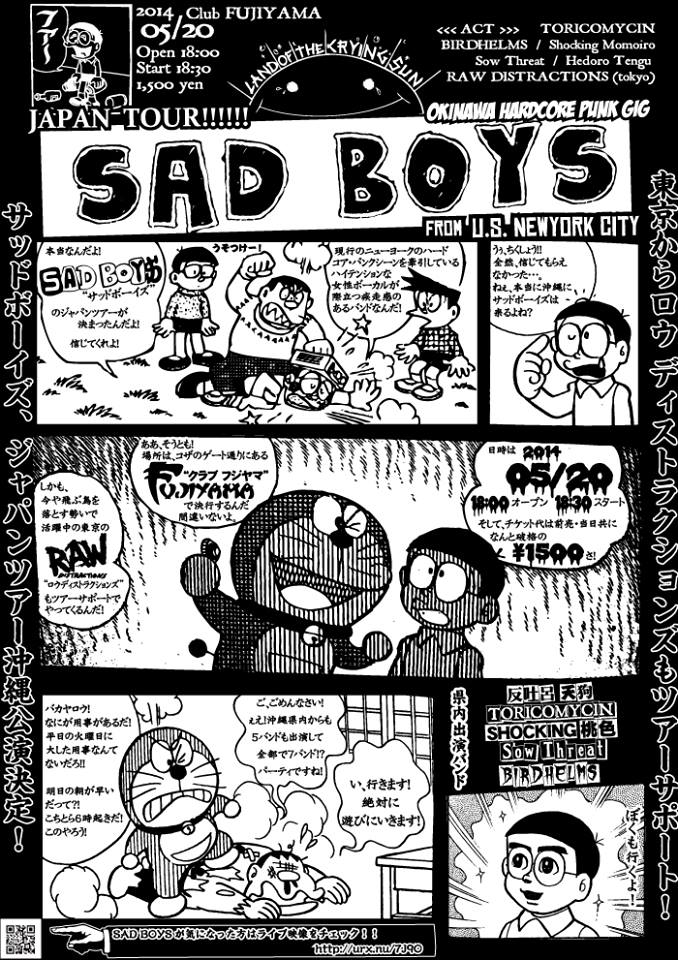 5/20 (tue) @ okinawa club FUJIYAMA



SAD BOYS (nyc/usa)
RAW DISTRACTIONS
反吐呂天狗
SHOCKING桃色
TORICOMYCIN
BIRDHELMS
SOW THREAT


open 18:00/start 18:30
day 1500yen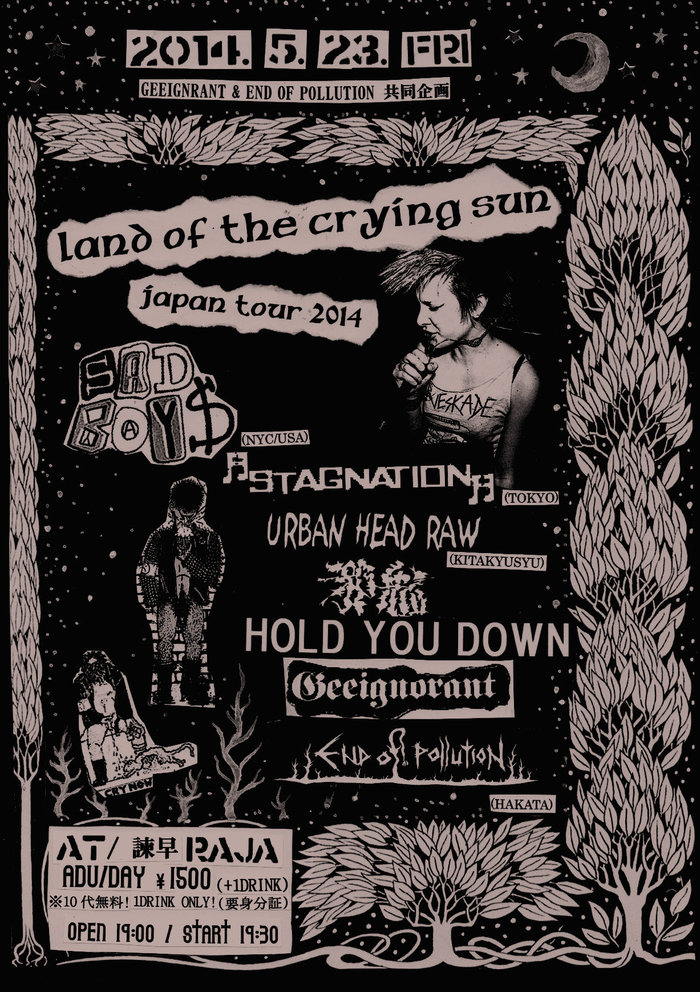 5/23 (fri) @ nagasaki studio RAJA



GEEIGNORANT&END OF POLLUTION 共同企画

SAD BOYS(nyc/usa)
STAGNATION
URBAN HEAD RAW(kita-kyusyu)
邪鬼
HOLD YOU DOWN
GEEIGNORANT
END OF POLLUTION (hakata)


open 19:00/start 19:30
day 1500yen

※十代無料!!(要身分証)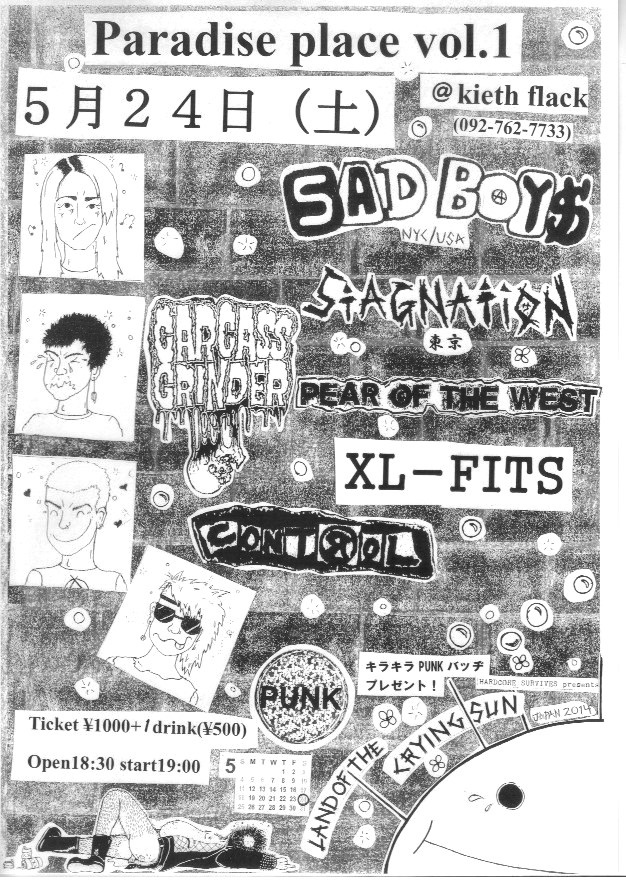 5/24 (sat) @ fukuoka KEITH FLACK



"PARADISE PLACE vol.1"

SAD BOYS (nyc/usa)
STAGNATION
CARCASS GRINDER
PEAR OF THE WEST
XL-FITS
CONTROL

open 18:30/start 19:00
day 1000yen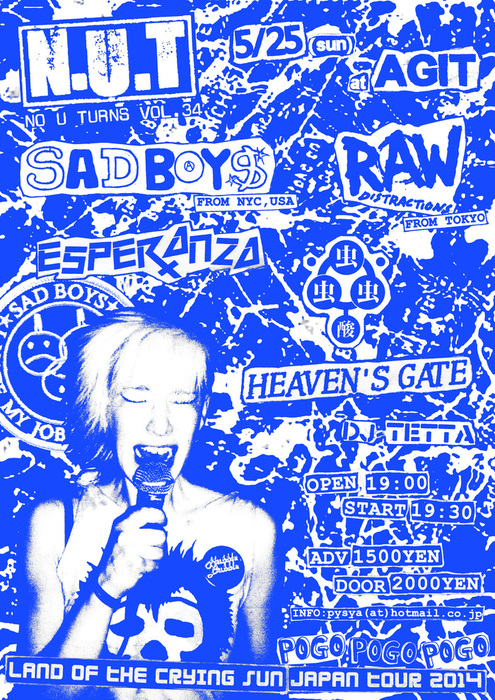 5/25 (sun) @ hiroshima AGIT



"NO U TURNS vol.34"

SAD BOYS (nyc/usa)
RAW DISTRACTIONS
ESPERANZA
蟲酸
HEAVEN'S GATE

dj: TETTA

open 19:00/start 19:30
adv 1500yen/day 2000yen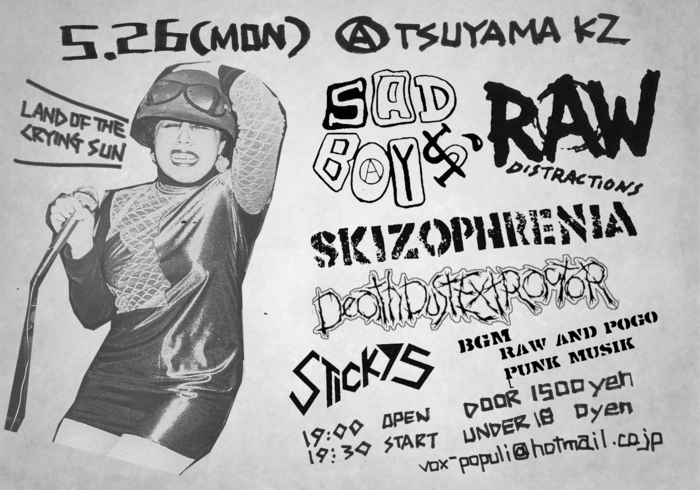 5/26 (mon) @ tsuyama K2



SAD BOYS (nyc/usa)
RAW DISTRACTIONS
SKIZOPHRENIA
DEATH DUST EXTRACTOR
STICKYS

open 19:00/start 19:30
day 1500yen (under18 0yen)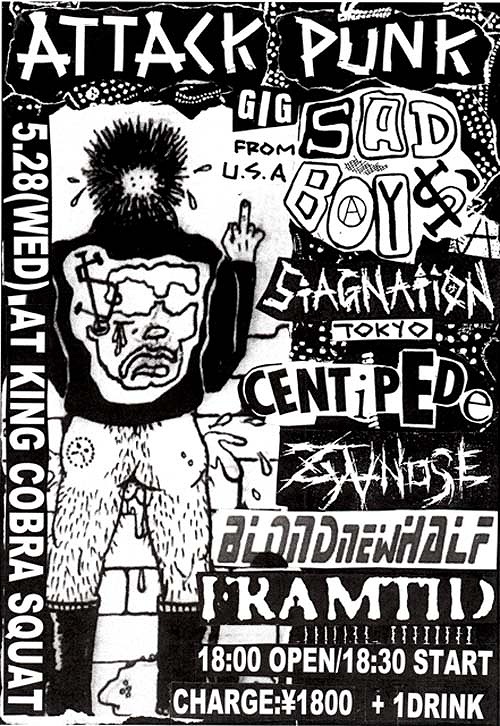 5/28 (wed) @ osaka KING COBRA SQUAT



"ATTACK PUNK GIG"

SAD BOYS (nyc/usa)
STAGNATION
CENTIPEDE
ZYANOSE
BLONDnewHALF
FRAMTID

open 18:00/start 18:30
day 1800yen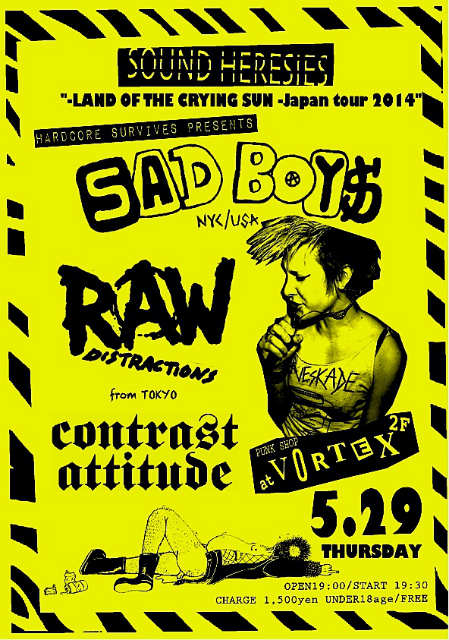 5/29 (thu) @ yokkaichi VORTEX



"SOUND HERESIES"

SAD BOYS (nyc/usa)
RAW DISTRACTIONS
CONTRAST ATTITUDE

open 19:00/start 19:30
day 1500yen (under18 free)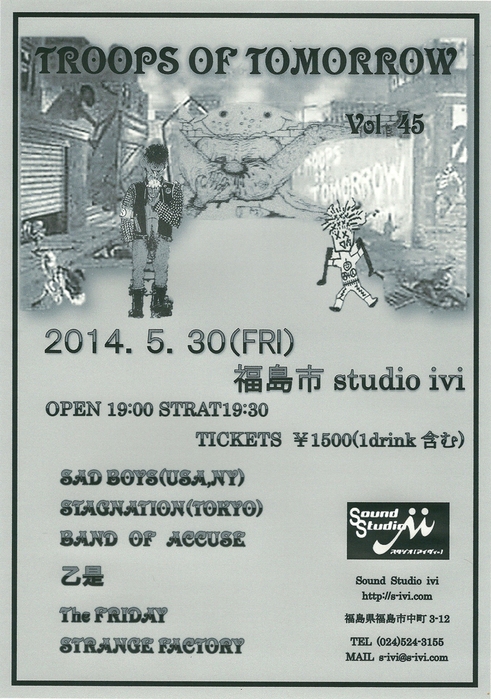 5/30 (fri) @ fukushima studio iVi



"TROOPS OF TOMORROW vol.45"

SAD BOYS (nyc/usa)
STAGNATION
BAND OF ACCUSE
乙是
THE FRIDAY
STRANGE FACTORY

open 19:00/start 19:30
day 1500yen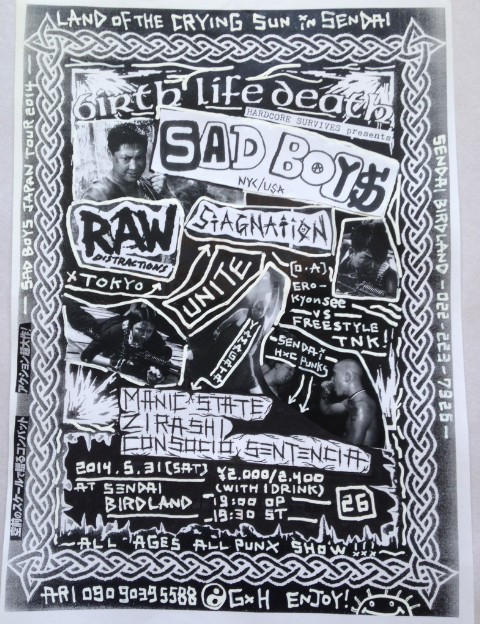 5/31 (sat) @ sendai BIRDLAND



"BIRTH LIFE DEATH"

SAD BOYS (nyc/usa)
RAW DISTRACTIONS
STAGNATION
MANIC STATE(YAMAGATA)
ZIRASHI
CONSOCIO SENTENCIA

O.A: ERO-KYONSEE vs FREESTYLE TNK

open 19:00/start 19:30
adv 2000yen/day 2400yen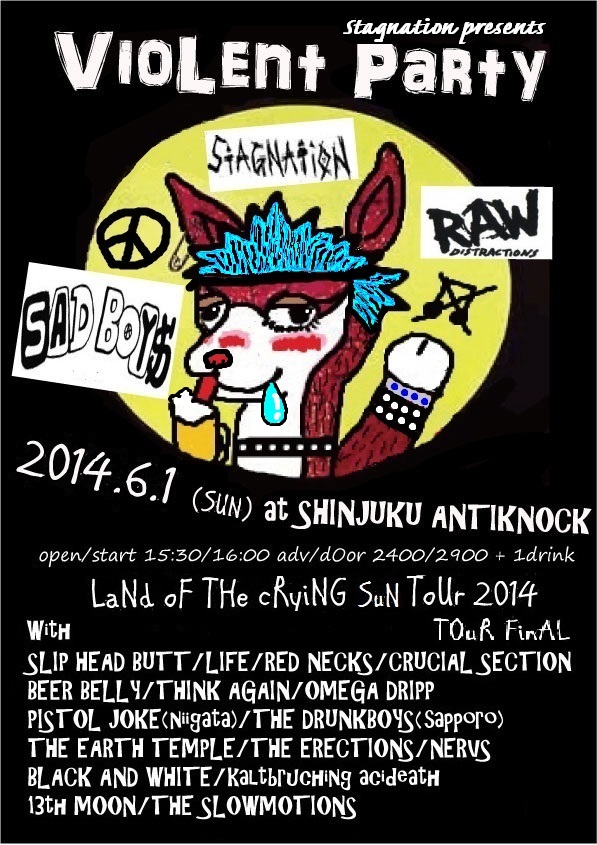 6/1 (sun) @ shinjuku ANTIKNOCK



"VIOLENT PARTY"

SAD BOYS (nyc/usa)
RAW DISTRACTIONS
STAGNATION
SLIP HEAD BUTT
LIFE
REDNECKS
CRUCIAL SECTION
BEER BELLY
THINK AGAIN
OMEGA DRIPP
PISTOL JOKE (niigata)
THE DRUNKBOi!S (sapporo)
THE EARTH TEMPLE
THE ERECTIONS
NERVS
BLACK AND WHITE
KALTBRUCHING ACIDEATH
13th MOON
THE SLOWMOTIONS

open 15:30/start 16:00
adv 2400yen/day 2900yen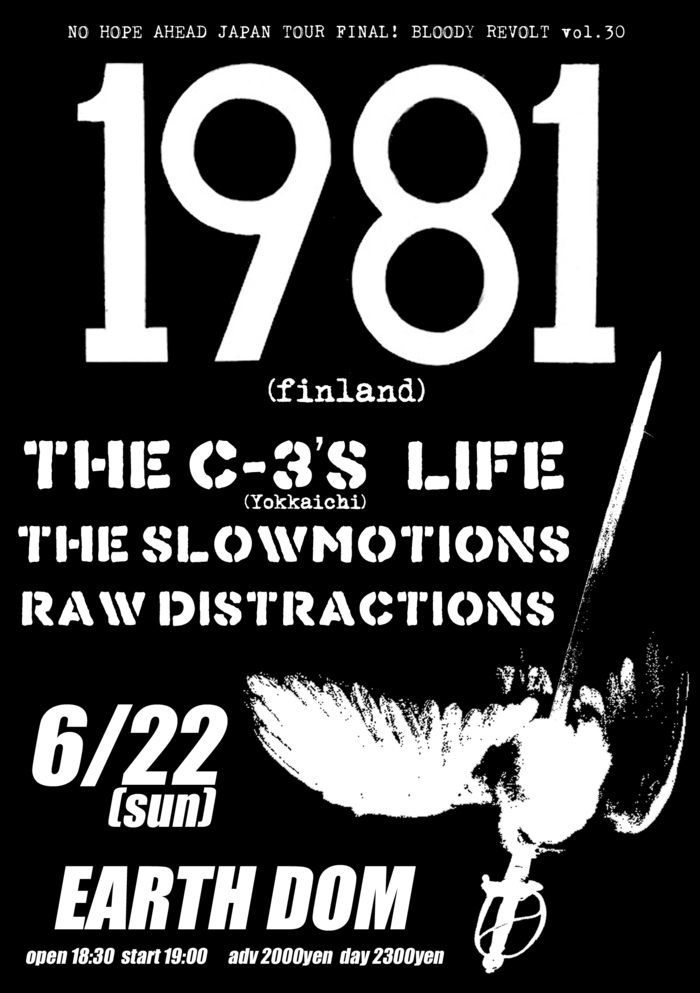 "No hope ahead japan tour final/Bloody Revolt vol.30"
6/22 (sun) @ EARTH DOM
1981 (finland)
THE C-3's (yokkaichi)
LIFE
THE SLOWMOTIONS
RAW DISTRACTIONS
open 18:30
start 19:00

adv 2000yen
day 2300yen (and drink)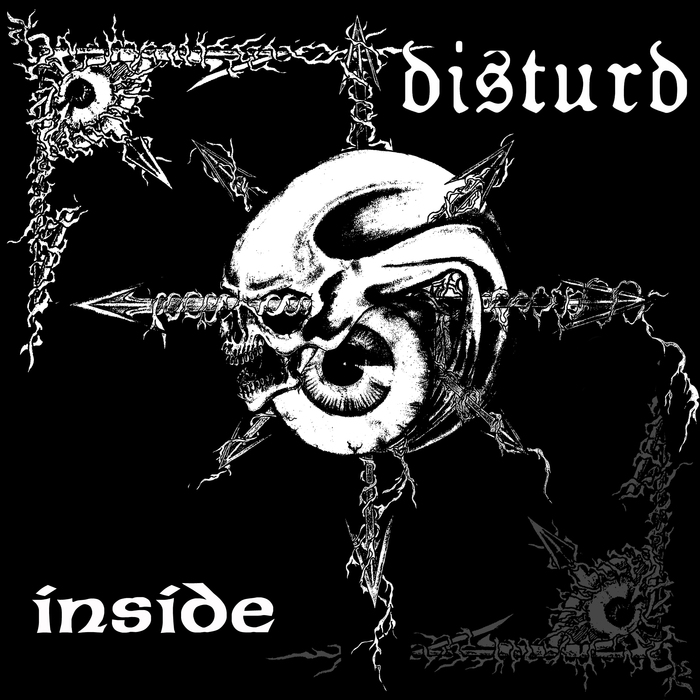 DISTURD

-

inside 7"ep

(HCS-048)
DARK METALLIC CRUST FROM HELL!津山から神戸に活動の拠点を移し、ドラムにex-AXEWIELDのKAKUDA氏を加えた万全の布陣にて怒涛の自主企画、海外ツアーと煮えたぎる闘志で邁進するDISTURD約2年半振りの3rd ep!不変的でさえあるANTISECT~SACRILEGE、SDS~AGEといった地獄の底を引きずるが如し切り刻むチェインソウ・ギターが漆黒の闇夜から強襲する!焼き増しにあらずDISTURD式緻密かつ繊細に研ぎ澄まされたDARKEST METAL CRUSTの最高峰に位置するであろう渾身の一撃!
Dark metallic crust from hell! Singer moved to Kobe from Tsuyama then found new drums from Axewield/Effigy. now They're booking lots of local shows as energetic and going to australia in this April. This 3rd ep puts in 2years and half. unchanged Antisect~Sacrilege, SDS~Age style of minced chainsaw guitar in hell corner. This is not a stereotyped method, one of the best Darkest metal crust in the world!
4月25日頃リリース予定
release on 25th/April

800yen
kaotik-hero[a]hotmail.co.jp