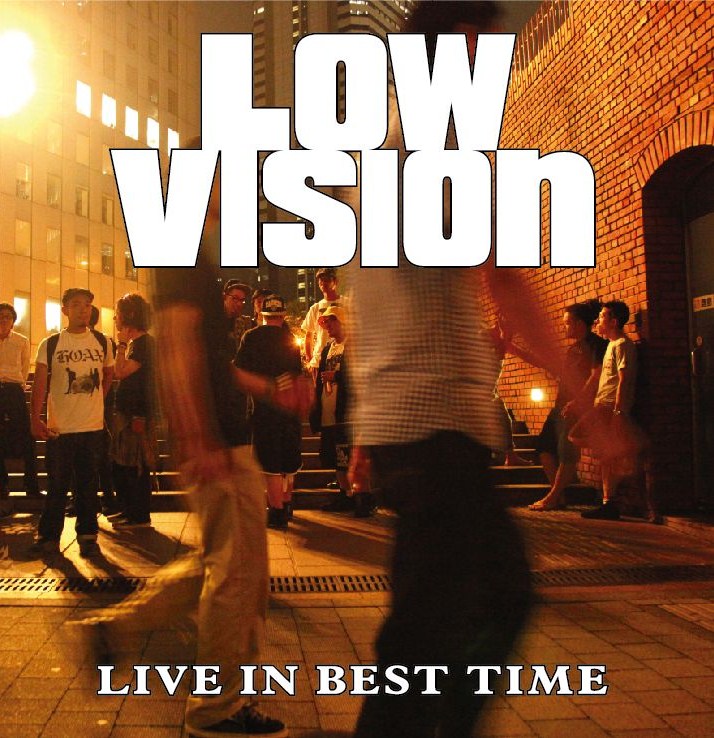 LOW VISION - live in best time LP (HCS-051)
out on 5/23!

通常盤: 2200円/2200yen
日本限定流通盤: 2800円
2013年にWD SOUNDSよりリリースされた"LIVE IN BEST TIME" CDのLP ver/ジャケット違いにてHARDCORE SURVIVESより限定250枚でリリース。
日本限定流通盤70枚にはシルクスクリーンインナースリーブ、フォトZINE(A4サイズ/20ページ)、刺繍パッチ、初期DEMOテープ"LxSxRx"/"LIVE IN BEST TIME"のダウンロードコード付。
通常流通版には"LIVE IN BEST TIME"のダウンロードコード付。
2002年、東京で結成。
もともと7SECONDS、MINOR THREAT、YOUTH OF TODAY、GORILLA BISCUITSといったUSHCとVIVISICKやDEATH SIDE、LIP CREAM、BASTARD、NUKEY PIKESなどのJAPANESE HCの要素をミックスしたバンドにしたいとスタートした。
その後、現在までにJUSTICE、PUNCH、TRUE COLORS、GLOOM、SDS、WHN?、DS-13、VIOLENT REACTION、THE FLEX、MINDSET、COKE BUST、FREEDOM、RIVAL MOBなどがFAVORITEとして追加され、サウンドスタイルにも影響を与えている。
CAPITALIST CASUALTIES、PUNCH、WEEKEND NACHOS、FULL OF HELL、STRAIGHT ANSWER、IRON LUNG、SOUL SEARCH、CONQUEST FOR DEATH、ON BODIESなどのジャパンツアーで競演。
2008年にUS THRASHの名門625より「TOUCH THE TRUTH」 (7inch)をリリース。
翌2009年にWD SOUNDSよりmini album「DECLARE」 (CD)をリリース。ジャケットはSPOILER (ex.JUSTICE)によるもの。
2013年同レーベルより1st album「LIVE IN BEST TIME」 (CD)をリリース。
-----------------------------------------------------------------------------------------------------------------
They started at 2002 in Tokyo, Japan.
at first US hardcore that are 7SECONDS, MINOR THREAT, YOUTH OF TODAY, GORILLA BISCUITS and japanese hardcore that are VIVISICK, DEATH SIDE, LIP CREAM, BASTARD, NUKEY PIKES had a influenced over them.
and they tried to make mix style sound.
and so far JUSTICE, PUNCH, TRUE COLORS, GLOOM, SDS, RAPT, WHN?, DS-13, VIOLENT REACTION, THE FLEX, MINDSET, COKE BUST, FREEDOM, RIVAL MOB were added their favorite band list.
these sound influenced over their sound style.
They have played together with oversea's hardcore band in each japan tour.
CAPITALIST CASUALTIES,PUNCH, WEEKEND NACHOS, FULL OF HELL, STRAIGHT ANSWER, IRON LUNG, SOUL SEARCH, CONQUEST FOR DEATH, ON BODIES etc...

2008 "TOUCH THE TRUTH"(7inch) from 625 THRASH CORE.
2009 "DECLARE"(CD) 1st mini album from WD SOUNDS. sleeve artwork by SPOILER (ex.JUSTICE)
2013 "LIVE IN BEST TIME"(CD) 1st album from WD SOUNDS.